Home > Blog > New Release: Collect and Manage User Feedback
New Release: Collect and Manage User Feedback
Elad Simon
Published: 27 Sep 2017
Updated: 29 May 2023
We're excited to announce Craft's latest release: we added a new Learn tab to our product planning app, that allows you to collect, categorize and manage user feedback easily and methodically.
This is a major addition to Craft and a real game-changed, as it offers product teams a way to organize their feedback items in one place and turn them into actionable items, in the wider relevant context of the product.
The idea is simple: connect your Intercom account to Craft, or use Craft to create custom user feedback forms. Then, create high-level categories. Within the categories, create sub-categories which are more feature-specific.
When the feedback starts flowing in, organize items easily in sub-categories. Now, here's what got our focus group really excited: the sub-categories can be connected to Stories from Craft's Editor tab. That means you can easily turn them into actionable items and tasks.
When your feedback is arranged methodically, in a way that makes sense to your team, it becomes easier to quantify feedback and determine which items are more pressing. That will be a huge help in prioritization.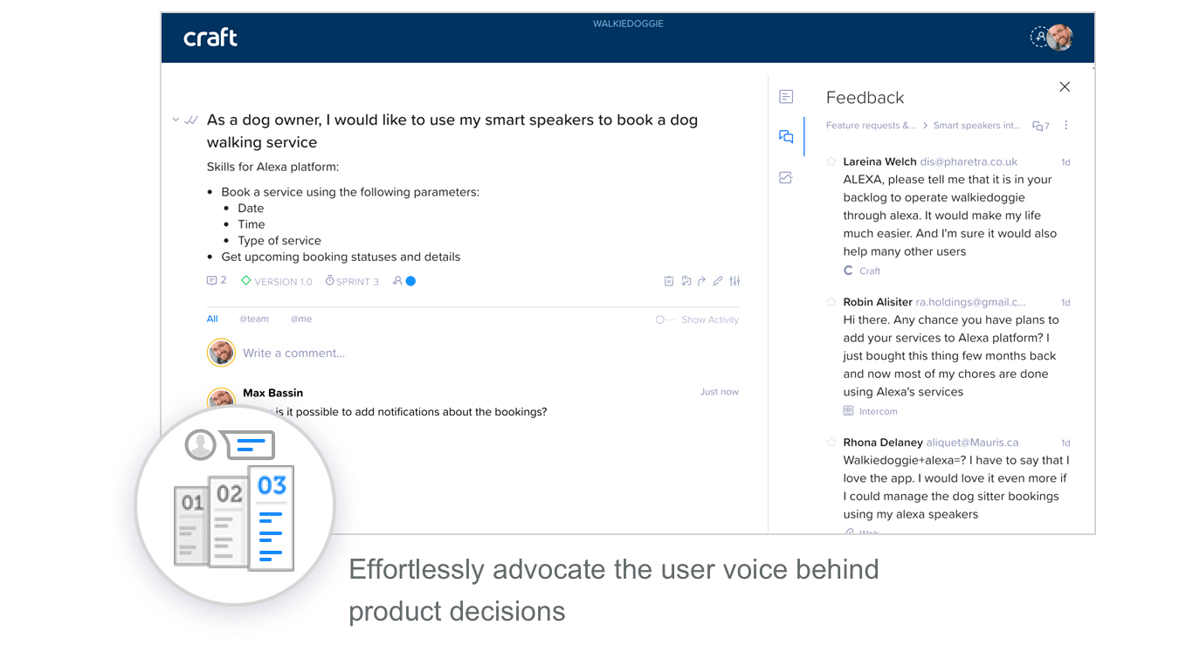 After releasing a new feature, Craft makes it simple for you to reach out to users who provided the feedback and thank them for their contribution.
The Learn tab also includes functionality for measuring your team's progress: Velocity and Burndown charts. The charts measure and visualize progress by sprint, calculated by story points and completed tasks. Great tool to improve sprint planning skills for every PM!
You can start collecting feedback with some help from the knowledgebase article, read the specifics in the release note, or simply log back into Craft to see what it's all about.
Great products start with great product management