Every Product team likes to run their product management processes their own way. We all know that.
Prioritization, workflows, dependency management, and sprint planning all look and feel a bit different depending on the team.
Yet, when you need to collaborate and share information you still want your entire team to work from the same source of truth. That's quite a challenge!
To help achieve this we are rolling out two new features we are very excited about: Saved Views and Shared Views.
Saved Views
In essence, Saved Views allows you to customize, rename and save any of the planning views in Craft, so they are adapted to meet your specific needs.
It comes out of the box with our 5 best practice views which are all fully adaptable and customizable.
Every view is saved automatically and you can always default back to the original view at any time.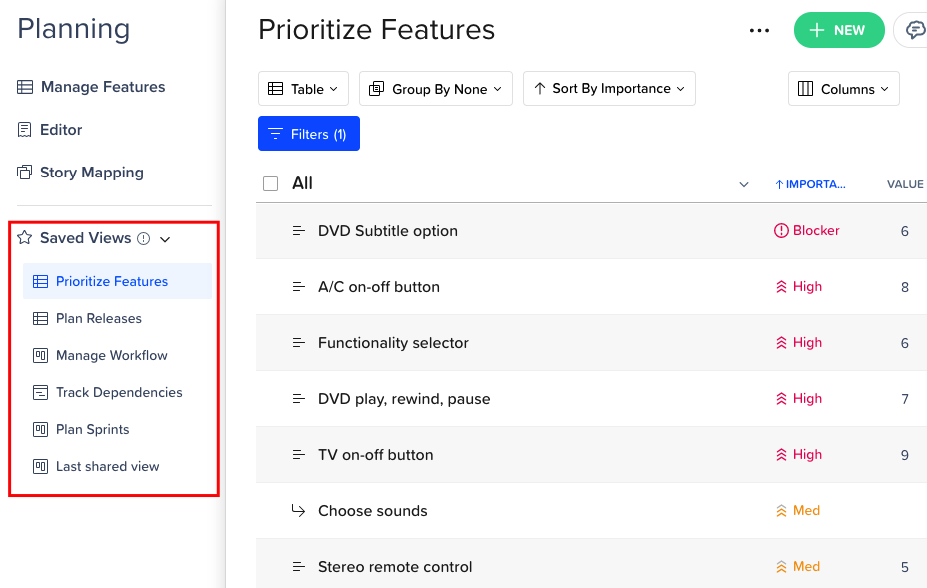 So, how does this all work?
OK, let's look at an example:
Let's say John from your team is in charge of managing sprints for one of the sections in the product. John likes to work in Kanban mode and to see just features related to his section.
All John needs to do is to go into our "Plan Sprints" view, filter by item type "Feature" and also filter by the Product "Section" he is working on.
Once he's done this, he can save this view and give it a dedicated name so that next time he opens Craft he (and only he) will be able to access this view with ease.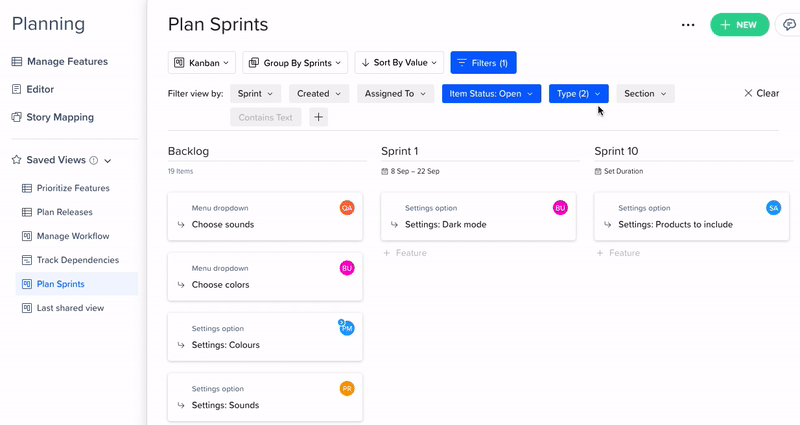 It's as easy as that. But don't worry if you want to get back to the original settings. All you need to do is select "Reset view to default" from the "3 dots' menu and your selections will be cleared.

Shared Views
Shared Views allows you to share any view with another user in the workspace. Once it's been shared, the view is saved in the left menu as "Last shared view" and the user can use this view to manage his work in Craft.
To continue our example: let's say that John has a colleague called Amy, who after chatting over lunch was super excited about how he manages his sprints.
Instead of trying to reproduce it by herself in Craft, Amy can simply ask John to share his view and once it appears in her Craft account she can use it for herself.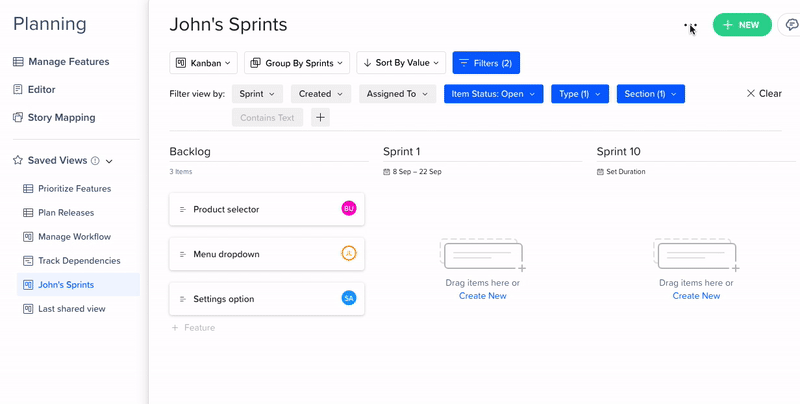 Check Out the Features
The new Saved Views and Shared Views features are already live in Craft.io. So log in right now and try it out.
And get the full details in our Release Notes.
Then let us know what you think about these and any other features by adding a comment to our Idea Portal.