To be an effective product manager, you need the right tools. Fiddling with spreadsheets is a thing of the past, with modern tools readily and freely available. These tools and collaborative spaces and learning are necessary for organizations in today's world. Especially given the shift to remote working, or hybrid, as a result of the global pandemic and the cultural workplace shift which has taken place as a result.
To create a more synergized environment, over 50% of organizations are adding collaborative spaces to their workplace using new technologies. These have become part of the digital transformation and are proving to be the future of agile methodologies. You need everyone to be on the same page and have easy access to the information they need to progress at any given moment. Organizations report a reduction of 17% spent on manual operations, a 16% increase in team collaboration, and a 16% faster decision-making time.
As a product manager or team leader, you need tools that will help you manage and oversee the entire development process. Azure DevOps and Jira likely caught your attention, but which is better for you?
What is Azure DevOps?
Azure DevOps (previously Visual Studio Team Service) is a suite of cloud services that help developers manage, plan, store, and deliver projects.
This suite includes Azure Boards, Azure Pipelines, Azure Repos, Azure Test Plans, and Azure Artifacts.

This is Microsoft-owned and supports agile development throughout the entire software development lifecycle (SDLC), from a concept to a fully developed application.
Each project in Azure DevOps can use some or all of the available services, which are fully integrated. You can pull requests that require your attention from the KanBan board or create new branches from within your tasks.
A powerful, highly customizable, interactive dashboard gives you a complete project overview. You can add, remove, and change widgets with a simple drag and drop feature and choose from many additional widgets available on the marketplace.
Azure DevOps is a complete ecosystem, but it has its pros and cons.
Azure DevOps Pros
Highly collaborative – Easily assign tasks to different team members, track their time on tasks, as well as progress.
Integrated repository – Azure Repos has complete integration with the various services of Azure DevOps, and as such, there's no missing functionality you need to bridge.
Agile methodology – The KanBan board and sprints are integral to the Azure DevOps management system.
Rich dashboard – The highly customizable dashboard gives insights into your entire SDLC.
Scaling pricing – Many services are free and can be scaled up indefinitely with a pay-per-use pricing model.
Azure DevOps Cons
Clunky integrations – Azure DevOps can integrate with many third-party tools, but it can sometimes be a challenge to set up and may miss some functionality. This is the core weakness of an ecosystem. Internal integration will always be superior.
UI overload – Due to the complexity of the services, new users may find it challenging to find their bearings.
Lacking road mapping – This is vital for project management and sorely missing from Azure DevOps.
What is Jira?
Initially, Jira was a bug and issue tracker. Since then, it has evolved into a full-fledged project management tool for developers and project managers alike.
Jira is flexible and easy to use for developers and less tech-focused people.
According to the State of Agile Report, Jira remains the most popular agile tool currently available.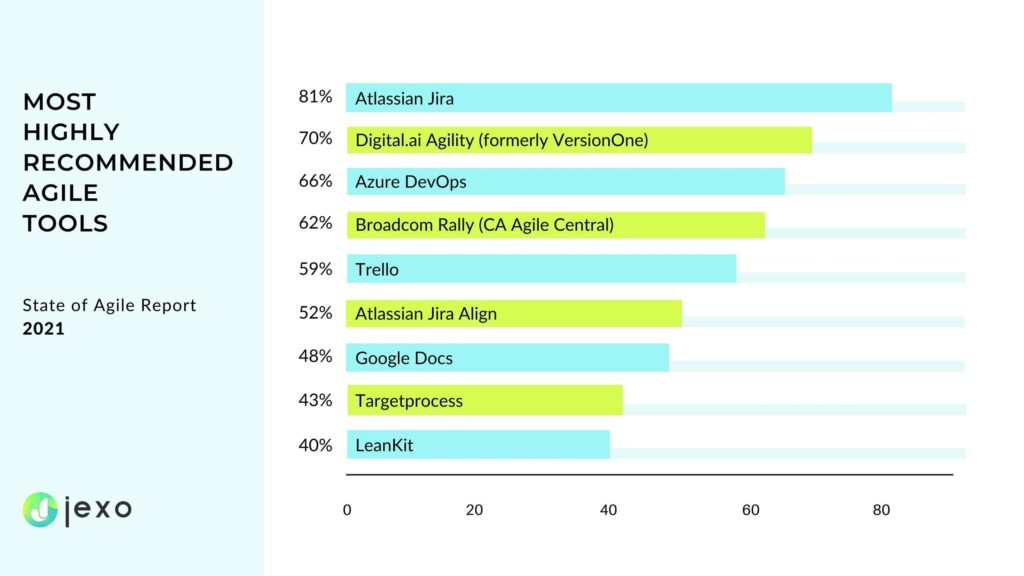 Owned by Atlassian, they have positioned Jira as a complete solution for project management, but there are some limitations on what the tool can do as a project management platform.
As Jira originated as a bug and issue tracking tool, its leading capabilities in those areas remain unparalleled by competitors in agile and scrum management. Integrations with third-party tools are easy, and you can even use some parts of Azure DevOps in conjunction with Jira if you wish. 
Jira, however, doesn't provide a full suite of solutions for your SDLC and relies on integrations with third-party solutions to fill some of those gaps.
Jira Pros
Built-in road mapping – Plan and track the progress of your project, and scale the view down to individual teams.
Customizable dashboard – Design your dashboard the way you want it to get the best view of your project.
Excellent integration – With over 3000 apps on the marketplace, you'll be hard-pressed to find a third-party application that cannot integrate with Jira.
Powerful search – Jira has advanced search capabilities powered by a robust query language.
Subtask control – Creating and assigning subtasks is a breeze.
Informative reports – Jira has plenty of reporting options on the different scopes of your project, from user stories to issues.
Jira Cons
Complex migrations – Migrating to Jira from other project management platforms can be challenging.
Limited reports reusability – Missing functionality to download reports can make it hard to share with stakeholders.
Cluttered UI – Some users find difficulty in using the UI and feel there is too much going on.
Issue tracking focus – Jira has a lot of functionality to make it into a project management solution, but it is an issue tracking tool at the core which sometimes shows.
Which one is best for you?
Both platforms have pros and cons, with the choice of which to use largely depending on your needs and possibly the services you're already employing.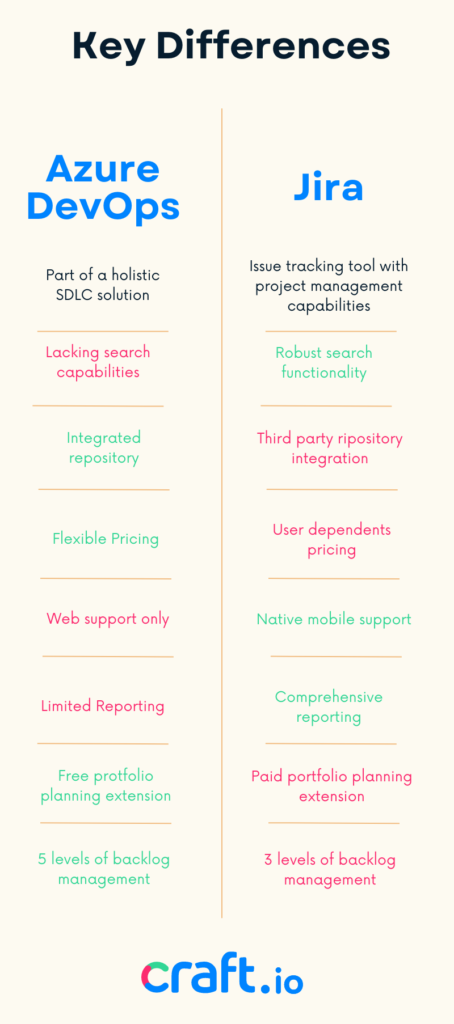 There are benefits to staying within the Azure ecosystem, with the most effortless transition being using Azure Boards for your KanBan boards and agile project management if you're already using Azure. But, you should be careful: being trapped within an ecosystem can feel constraining, and it is sometimes better to diversify.
Jira is the most popular agile methodology tool for a reason. However, this reason is primarily based on issue-tracking capabilities. If you're looking for an issue-tracking tool with added functionality, Jira could be the way to go. But if you're a product manager, using Jira as your overarching solution might quickly become frustrating. Jira focuses on execution, while product managers need a top-down view of a project.
With Craft.io, however, this gives you the birds-eye view that you need. With a focus on planning, road mapping, strategizing, client feedback, and optimization, Craft.io cover many of Jira and Azure DevOps shortcomings.
Using the wrong tool for the job often results in filling the gaps with various other solutions that don't quite fit the bill. Product managers often use spreadsheets to track and monitor teams or utilize capacity planning. Craft.io provides easy access to everything you need as a product manager. This has been created specifically for product managers, with each task being possible to complete with ease.
Deciding which is best is down to you.
Do you want to engage with the entire ecosystem of Azure DevOps, or would you prefer only to use a subset of the services and integrate other solutions for different aspects of your product management and software development?
Jira may be a familiar tool for both you and your customers, but does it fulfill every need?
Regardless of what tools you currently use, Craft.io provides a strong foundation for product management.
Craft.io is an all-in-one product management tool that will help you through each stage of the process while allowing for complete transparency with product data and your teams.
Learn more about the capabilities of Craft.io here.