Home > Blog > Craft.io Now Integrates with Lucidchart
Craft.io Now Integrates with Lucidchart
craft.io Team
Published: 25 Oct 2023
Updated: 26 Oct 2023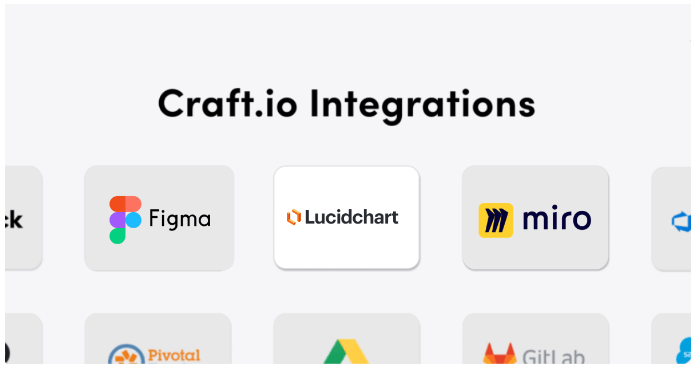 Review Lucidchart diagrams and flowcharts
natively in your Craft.io environment
More than any other software tool you'll find, Craft.io can help your organization centralize your product content companywide in a seamless, end-to-end environment. The native Craft.io platform provides intuitive tools that connect roadmapping, backlog management, prioritization, feedback analysis, dependencies management, capacity planning, and other key workflows.
But to continually make your product department's central content hub more useful and information-rich, we've been hard at work integrating Craft.io with other mission-critical workflow apps. Your UX/UI teams, for example, can easily embed designs they create in Figma or Miro into the relevant Craft.io items for your Product Managers to review. And your product teams can sync backlog and roadmap progress in Craft.io with your Developers' task updates in Jira or Azure DevOps.
Now your Product Managers have yet another way to collaborate more closely and conveniently with Developers, UX/UI Designers, and other members of your cross-functional product team, thanks to Craft.io's new integration with Lucidchart.
3 Ways the Craft.io-Lucidchart Integration Can Improve Your Product Workflows
With the Craft.io-Lucidchart integration, your teams can now drop a link to a Lucidchart asset into any Craft.io item (story, epic, feature, etc.), and clicking on that link will open an embedded iframe that lets you preview the diagram or flowchart directly in your Craft.io environment. 
Here are just a few of the many ways this integration can streamline and improve your product team's workflows. 
1. Review user flows and product experiences in the proper context.
Let's say your Product Managers ask your UX/UI Designers to document a specific user flow, such as what will happen step-by-step when someone downloads a free trial of your software.
With this integration, your UX/UI team can create a visual diagram in Lucidchart depicting their proposed user flow – and then turn that Lucidchart page into an easy-to-view frame right in the "Trial Download" user story in Craft.io. That way, your Product Managers can view the native Lucidchart diagram in full detail right alongside the relevant Craft.io content related to that story, to make sure your Designers are addressing the required specs, for example, and creating an experience consistent with the story's user persona. 
2. Share technical processes quickly and easily, to keep Product and Development on the same page.
Now imagine your Product Managers ask the Development team to explain the technical steps (and perhaps an estimated timeline) needed to complete an API or some other new piece of functionality. 
If your Developers create a process diagram Lucidchart and simply send a static screenshot, your Product Managers won't be able to drill into any aspect of the plan or isolate any detail to determine how it affects the other pieces of the puzzle. And even if your Developers send a link to their native work in Lucidchart, that will force your Product Managers to hop back and forth between Craft.io and Lucidchart to make sure the specs line up with their requirements. 
But with this new integration, you'll empower both parties to collaborate more closely and efficiently. Your Product Managers will be able to review the technical flowchart in full detail in the proper context – within the relevant Craft.io item. And your Developers will be able to save time by providing the full story to those Product Managers easily – by simply dropping a link to their work into Craft.io.
3. Review customer journey maps in full context of the related items. 
Finally, let's say your Product Managers want to learn more about how new customers are finding their products and what their typical buying experience looks like.
With this integration, they can ask the Marketing Team to drop in their Lucidchart-created customer journey maps right into Craft.io so they can review every step that journey in the context of all other relevant data, such as the customer feedback they've collected about that process.
Try the Craft.io-Lucidchart Integration for Free
The Craft.io-Lucidchart integration is just one of many ways Craft.io can significantly improve your product processes by becoming your single source of product truth. Try this new integration, and the full Craft.io product management platform, for free.
Great products start with great product management