Looking for agile product management software? Check out this article:
11 Secret Tools Every Agile Product Manager Should Know
One of the trickiest, most time consuming aspects of agile product management is choosing the right agile software tools for your team. Product management software is a rich, thriving field and setting out to find the top agile tools can prove a tedious, taxing task.
For one thing, affordability is almost always a factor. There is also the matter of redundancy – product management software solutions often overlap with certain features, leading to underutilization or burdensome solutions you feel you pay too much for. Most importantly, agile software needs to correspond with the natural process of the agile approach: fast paced, quick to implement and flexible.
The good news is that similarly to  Craft, many product manager creators come from the agile world and are intimately familiar with its challenges, offering a variety of creative solutions.
After trying out a considerable number of agile product management tools, I'd like to think I acquired a knack for quickly spotting the most fitting solutions for my team. I synthesized the most important elements in this process, with the hope that it will save you time and energy on picking applications.
Collaboration with your team should be easy
Communication should be easy and so should collaboration. In a process as intense, tightly scheduled and fast-paced as most agile development teams work in, there is no time for exporting, sending for review and having only one person implement the changes.
Many agile software creators are minded to this matter these days and collaboration is becoming a more common feature – whether it is Trello's shared lists, InVision's easy commenting mode or Craft's discussion panel:
If you're worried about an audit trail or editing history – most apps were encouraged to offer this option by the Google Docs revolution. While editing history is rarely used in itself, it helps "keep things honest" the same way "Traffic Camera Ahead" moderates our driving even if there is no actual camera.
Make a habit of trying new agile software
This may sound counter-productive but trust me, it will boost your product manager's skills to a whole new level: always be trying new software. Like I mentioned earlier, our field is ripe and saturated with new technologies. New agile development tools are constantly springing up. It (really) helps to be in the know of these new product management apps – you get to keep your finger on the pulse of your field, first hand; get new ideas and stay informed on all the latest innovations. Other reasons to keep trying out new agile software tools:
It is often less costly

– new solutions have Beta plans that are more affordable than the veteran robust tools.
Become an early adopter

– another great practice for you as the conductor of an agile product management team: exercise finding bugs and thinking up new features. It will REALLY come in handy for your own product development process.
Network better

– know and be known to all the up and coming names in the field.
Find the agile technologies that are easiest to learn
Trying on new tools doesn't mean you have to spend the best years of your team's life learning how to use them. While a wireframe that comes out of the Photoshop oven is still the most dazzling one, nobody expects agile team members (who are not designers) to master software as intricate as photoshop. And let's face it, not all agile teams include designers.
Thankfully, we live in an age where UX has become an inseparable part of onboarding and adoption, so that most new software tools follow the "you already know how to use it" principle. Observe, Toggl's smart and efficient onboarding screen: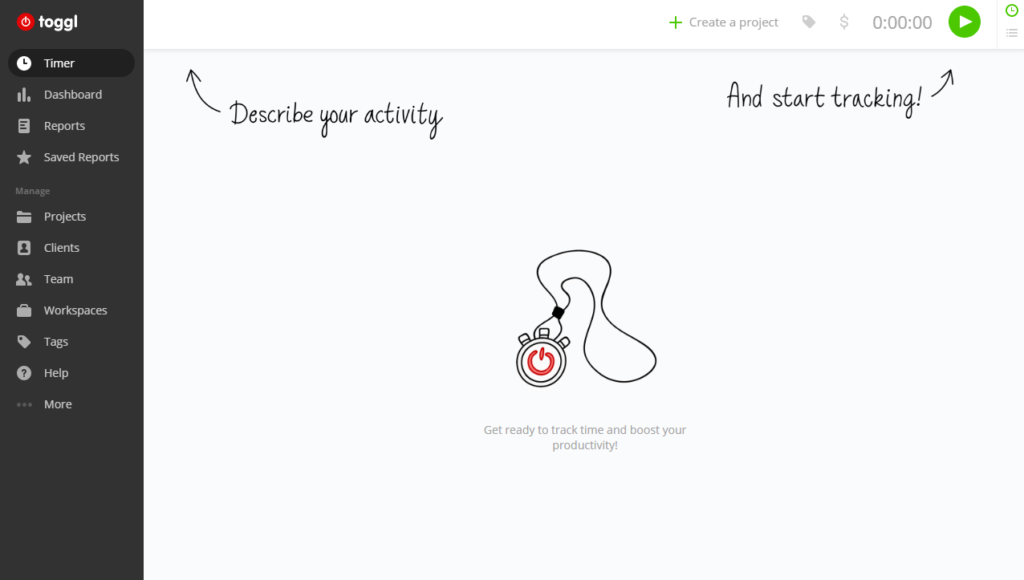 Save time with comprehensive solutions
As an attempt to be an an all-in-one solution, many solutions are now offering multiple features that cater to agile product development teams. You can argue about their focus and scope but the fact is that project management solutions now offer productivity features, productivity tools provide task management modules and task management apps are also in the business of ideation and prioritization these days.
The bottom line – most of the software that caters to agile development methodologies overlaps at least by 15% with other software we use. It can't be helped. In the end, many features are never implemented properly, or done so only for a certain percentage of the userbase.  
What can we do? We can try to select tools that encompass as many aspects of the agile development cycle as possible. There will always be redundancy, but we can try to build our teams a package of agile product management tools that fit together optimally, utilizing as many features from each application as possible. Your overhead budget will thank you.
Don't compromise on integration
That said you want your stuff to integrate with your other stuff. Help your team to keep working within the comfort zone of their dependable, beloved tools. The top integrations you should look out for are:
Google docs

Google Drive

JIRA

Trello

Dropbox
Or inquire whether they have a ready-made API that ensures integration with basically any software. In many cases, integration can be one of the first things on your feature request list as a beta user, so you need to decide in advance if it is worth your wait.
Choose software for the long haul
I don't know about you, but my product vision goes everywhere I go. I make so many decisions based on my vision for the product. It determines actions small and large, immediate and indirect. For that reason, I make sure to choose scalable agile product management tools that can grow with my product and my team.