Home > Blog > Product Operations: Is it Product Manager Work… Or Something Else?
Product Operations: Is it Product Manager Work… Or Something Else?
craft.io Team
Published: 16 Aug 2022
Updated: 26 Jul 2023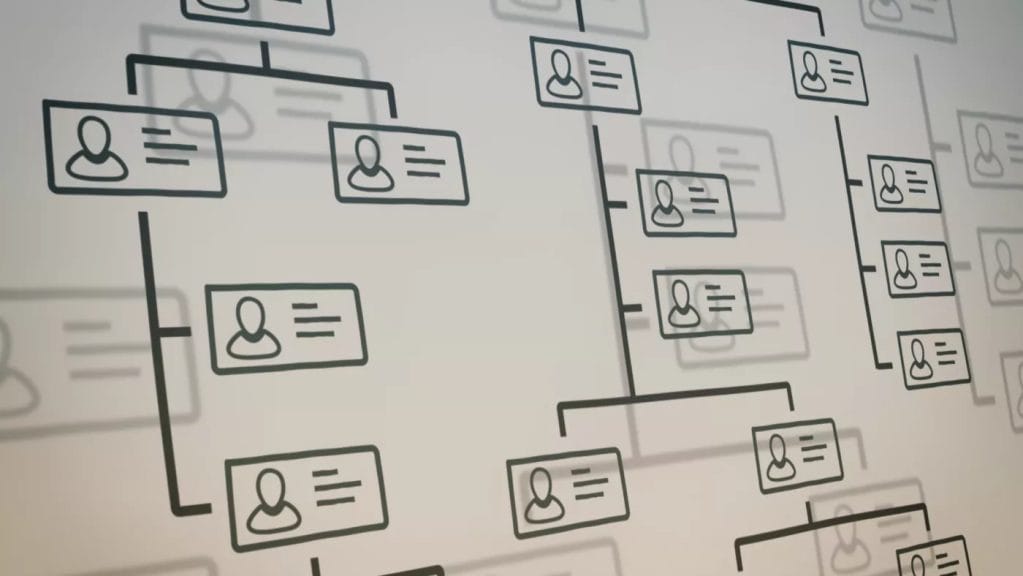 So, you're looking into a career in product operations (or "product ops," as the cool people say it). Smart move. Product ops roles are quickly becoming must-haves both in large enterprises and in growth companies beginning to scale. A July 2023 LinkedIn job search for "product operations" jobs 7,000 open positions in the European Union – and 72,000 in the United States.
Here's one more datapoint showing the demand for product ops roles. When we surveyed hundreds Product Managers and Product Leaders for our Craft.io 2023 State of Product Management report, we found that nearly every one of them – 98%  – had either already created a product operations position or were planning to hire the role in the coming year.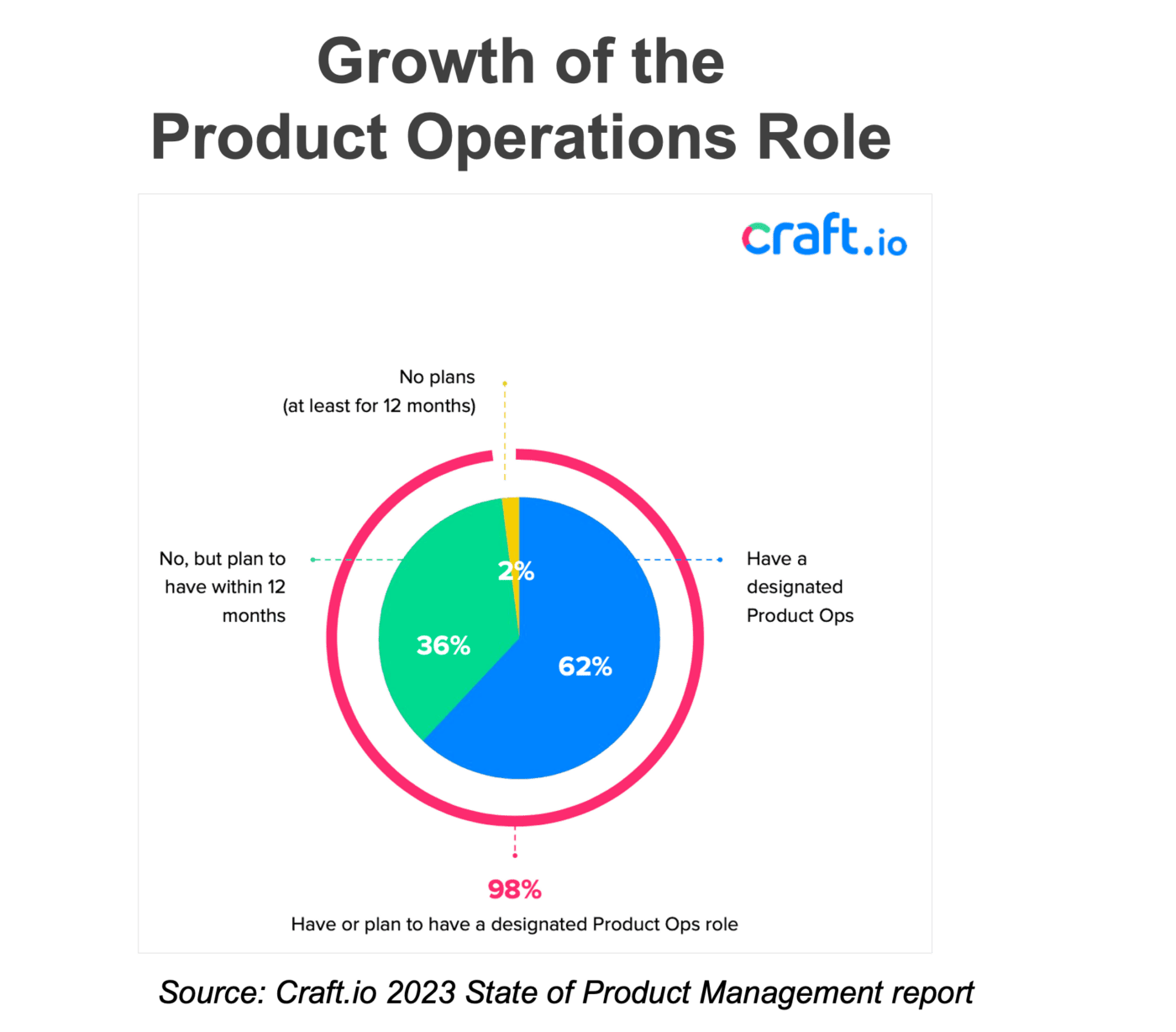 But as we'll demonstrate below, when you look at those job descriptions, you're going to find a wide variety of roles and responsibilities. Product operations is still so new that the product management world hasn't yet agreed on a definition for it.
So, before we jump into our discussion about why this role is becoming so popular with businesses, let's establish a working description of the position. Then, if product operations still sounds like an interesting career to you, we'll walk you through several key skills that will help you succeed in this field.
What in the World Does Product Operations Mean?
The most common question we at Craft.io hear about this position is some variation of the following: "Is product operations just product manager work under a different job title?"
Considering all the confusion surrounding this new profession, the answer is easier than might think: No. The Product operations role is complementary to product management, but it addresses a different set of key responsibilities and goals.
The job of product operations is to streamline and improve the work of teams across the organization. In most companies, the responsibilities of product ops will fall into three categories: people, processes, and tools.
1. People: Facilitating communication across the organization.
Large companies risk the pitfall of information silos as growing teams focus inward on their own tasks.
Product ops can help mitigate this risk by acting as a central contact point between product management and other departments. 
2. Processes: Establishing and standardizing best practices for the cross-functional product team.
As a business grows its staff and customer base, the pressure mounts to improve existing products – and deliver new solutions to the market – more frequently. As the need to deliver increases, the organization can no longer afford to build and release products in an ad-hoc manner.
Product operations can help by standardizing various aspects of the product development process. A couple of examples include establishing a meeting cadence between product and other departments and identifying and tracking post-launch KPIs to gauge product success. 
3. Tools: Sourcing and implementing apps and other solutions to optimize product outcomes.
With more teams across the company working together to bring products to market, and more products in the development pipeline, a growing organization will increasingly find the need for new tools to help everyone do their best work.
Product operations can help here as well, by identifying workflow gaps or inefficiencies that the team could improve with the right solution—and then finding that new tool. One example might be a comprehensive product management platform that helps all teams collaborate in a central digital environment and track each other's progress on the product's development.
Craft.io's end-to-end platform, for example, helps teams across an organization (Product, Development, Design, etc.) collaborate more efficiently by syncing their work on the product. To cite just a couple of examples:
Development and Product Management can work more closely together by leveraging the Craft.io Jira integration to ensure the Developers' progress is always reflected on the current product roadmap.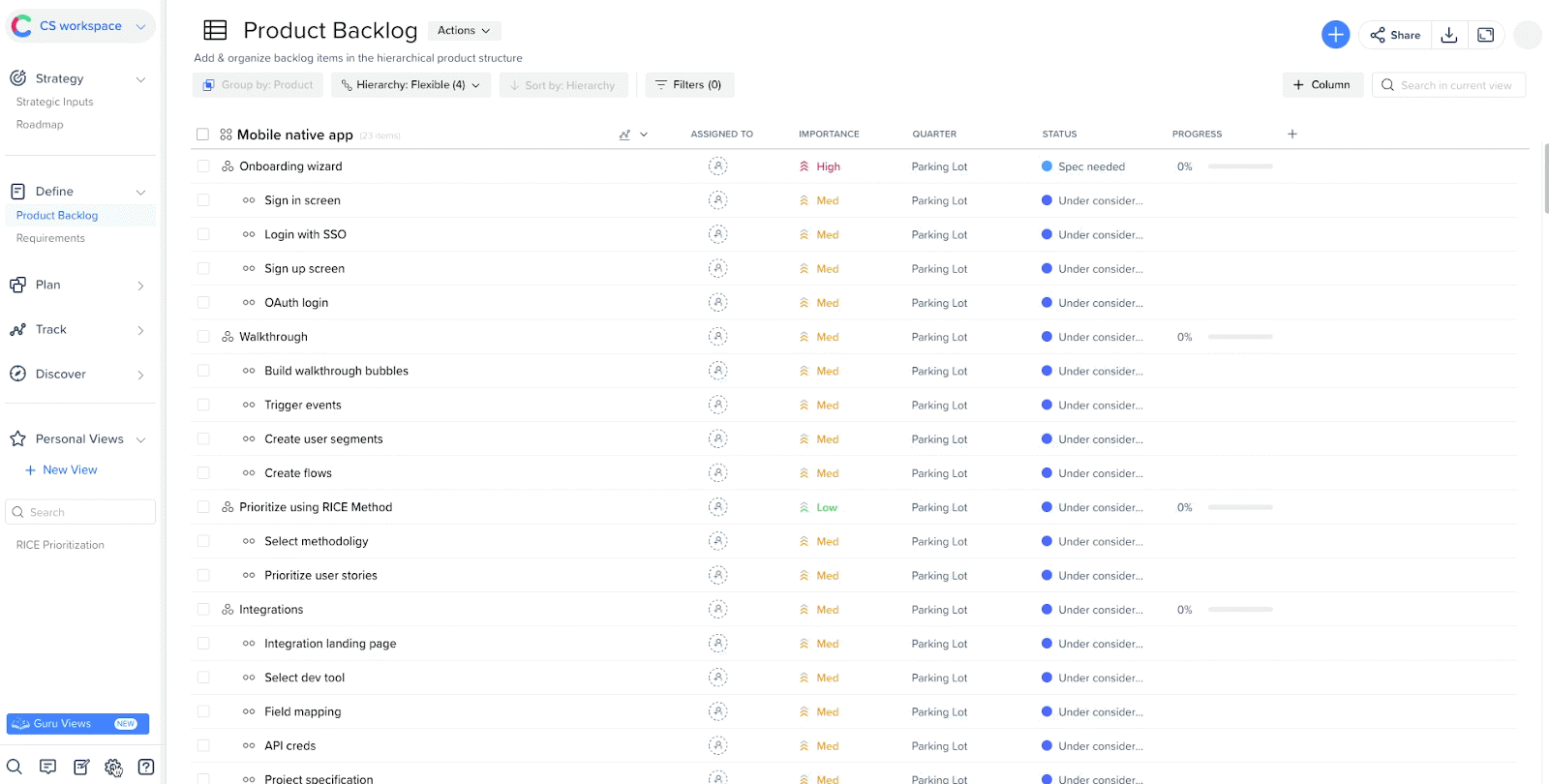 UX/UI Designers can also collaborate more efficiently with Product Managers by leveraging Craft.io's integrations with many popular design apps (Figma, Miro, Adobe XD, InVision, Axure) to drop their mockups and other designs directly into the relevant Craft.io workspace. 
The product team can then view those designs natively right alongside key details such as user persona and feature specs. 
Pro tip: If you want to get a jump on research for the right tools for your product team so you can make a well-reasoned case for choosing one over the others, check out our Enterprise Product Management Platform Buyer's Guide.
What Does a Product Operations Manager Do?
The job of a product operations manager is to clear paths and create opportunities for everyone to do their best work on the product. Now let's discuss what this means in practice and what you'll be doing day-to-day as a product operations manager.
To illustrate the responsibilities of the product operations role, we've pulled a few real-world examples from the LinkedIn job search we mentioned earlier. Each bullet below is part of an actual "product operations manager" job description, and each is from a company you know.
Define the engagement model between tech and business stakeholders, creating processes to implement on product strategy.

(Uber Product Ops job description)
This responsibility of a product operations manager combines both of the strategic functions we described above. Uber is looking for someone who can create a standard process to facilitate communications between stakeholders. 
Uber understands that unless someone takes ownership of regularly bringing together its business and tech teams to collaborate, the company's solutions could miss the benefit of applying both sets of unique insights to product strategy.
Participate actively in the evaluation and selection of vendors in collaboration with the product team.

(DocuSign Product Ops job description)
Here, DocuSign is describing another contribution of product operations. Businesses often ask product ops managers to identify, vet, and deploy applications to help teams perform their jobs as effectively as possible.
For example, this might include implementing an end-to-end product management hub where product management, development, marketing, and other teams can track product status and strategy.
Partner with UX researchers & analytics teams to ensure we have the data and research required to make data-informed decisions.

(Verizon

Product Ops job description

)
Another component of the product operations role is to gather market feedback, product usage data, stakeholder suggestions, and other information to help the team make better decisions on product priorities and future direction.

A product operations manager can streamline this process by implementing an app that allows the team to compile feedback and connect it directly to the backlog.
Develop relationships with stakeholders of different levels in the product, engineering, gTech, finance, and sales teams.

(Google

Product Ops job description

)
With this job description bullet, Google highlights the importance of the product ops manager to serve as a central point of communication for various teams across the organization.
Google knows that the finance and engineering departments won't often have reasons to get together. But sharing insights between these departments could uncover valuable business intelligence. The more product ops can build relationships with these teams – and bring them together to share their unique perspectives – the better the chances that Google will hit on another viable solution to a market problem.
Improve the way we operate to drive short-term and long-term performance.

(SiriusXM Product Ops job description)
This bullet from SiriusXM's product ops job description sums up the mission of product operations: to streamline the company's path to releasing successful products. 
In fact, if we had to distill product operations into a single sentence, this could be it.
Becoming a Product Operations Rock Star
To understand what makes a great product operations manager, let's do a thought experiment. 
Imagine you're joining a company in hyper-growth mode. Your job is to help the cross-functional product team transition from informal collaboration and decision-making to data-driven, repeatable processes. 
The organization is expanding quickly, meaning a product manager can no longer walk over to developers and talk through strategy or timelines. The new additions to the product and development departments are just getting to know each other. They don't have the informal shorthand that once characterized product conversations in the company's startup days.
With that hypothetical in mind, you can better understand the responsibilities and skills that make a great product ops manager. Here are a few of the most important.
1. Create a blueprint to help the team scale.
As a product organization makes the leap from one product manager to several, or from a few products to a growing portfolio, the company will need to become more efficient at every stage of development. 
From product concept through go-to-market planning, the organization needs predictable processes for all these stages.
To be a great product operations manager, you'll need to take a broad view of the growing company and find ways to turn ad-hoc processes into repeatable checklists. And as the business continues to scale, the cross-functional team will have a blueprint to operate efficiently. 
2. Keep all stakeholders aligned and up to date.
In large or fast-growing companies, product operations will act as the glue connecting the various teams—product, development, sales, etc. 
The role is particularly important for larger organizations because the sheer volume of everyone's workload makes it more likely that departments will form silos and teams will become misaligned on product strategy and execution.
If you want to become a product ops superstar, you'll need to learn how to make yourself that cross-functional team glue. For example, you'll need to study the company culture and people's workloads to determine the right frequency for these team-alignment meetings. 
You want to bring everyone together periodically to ensure all teams are still focusing on the right things, but not so often that your meeting schedule undermines progress or upsets your stakeholders.
3. Identify tools and processes to improve team workflows.
Another vital product operations skill is examining the product organization's current workflows and spotting potential inefficiencies or gaps in functionality that could be slowing the company's product development.
Then, as an effective product ops manager, you'll research the market for solutions –communication apps, data-gathering tools, MarTech solutions, etc.
4. Provide stakeholders with a central point of communication.
The accounting department might not have a strong relationship—or any relationship—with the product team. The same could be true of the relationships between marketing and development, customer success and public relations, or any departments across your company.
But if your organization has you – a product ops rock star – that won't be a problem. You will develop great relationships with all of these teams. If someone from anywhere across the company approaches you with a question or request for a member of another department, you'll either have the answer or know how to connect the right people to address the issue.
A major key to succeeding in product operations is becoming a central source of company and product knowledge—and making yourself available to stakeholders across the company who might need that knowledge. 
5. Apply learnings from every release to improve the next.
Finally, as a great product ops manager, you'll record the details of every aspect of your company's product development – prioritization, capacity planning, team communication, etc. – and analyze the results to learn what worked and what didn't.
Then you'll apply those learnings to improve the development of your next product—and you'll repeat the process every time to continually improve your team's process.
Future Product Ops Star: You've Found a Great Profession
If you're pursuing a product operations career, your timing is excellent. We noted the tremendous increase in businesses around the world trying to fill product ops jobs right now. As for what's driving the demand for product operations roles at so many businesses, here's how Product Manager HQ Co-Founder Clement Kao explains it:
"Now that more and more companies are scaling up their product teams, it's getting to be too hard for the product manager to maintain core product management responsibilities while also tackling enablement and scaling processes."
That, Clement says, is why "Product Ops is heating up."
In other words, you've found a great profession to pursue. And we wish you success in your product operations career.
(It's research for your product ops job.)
Great products start with great product management