New Pricing, and New Upgrades to Craft.io
As you may have noticed, we recently launched Craft.io 3.0. This platform upgrade includes powerful new features, expanded functionality, and an enhanced user experience that we believe surpasses the industry standard. To make room for even more new developments, and to align our product with market and the value we want to deliver to you, we're adjusting our pricing.
How the Pricing Change Will Affect You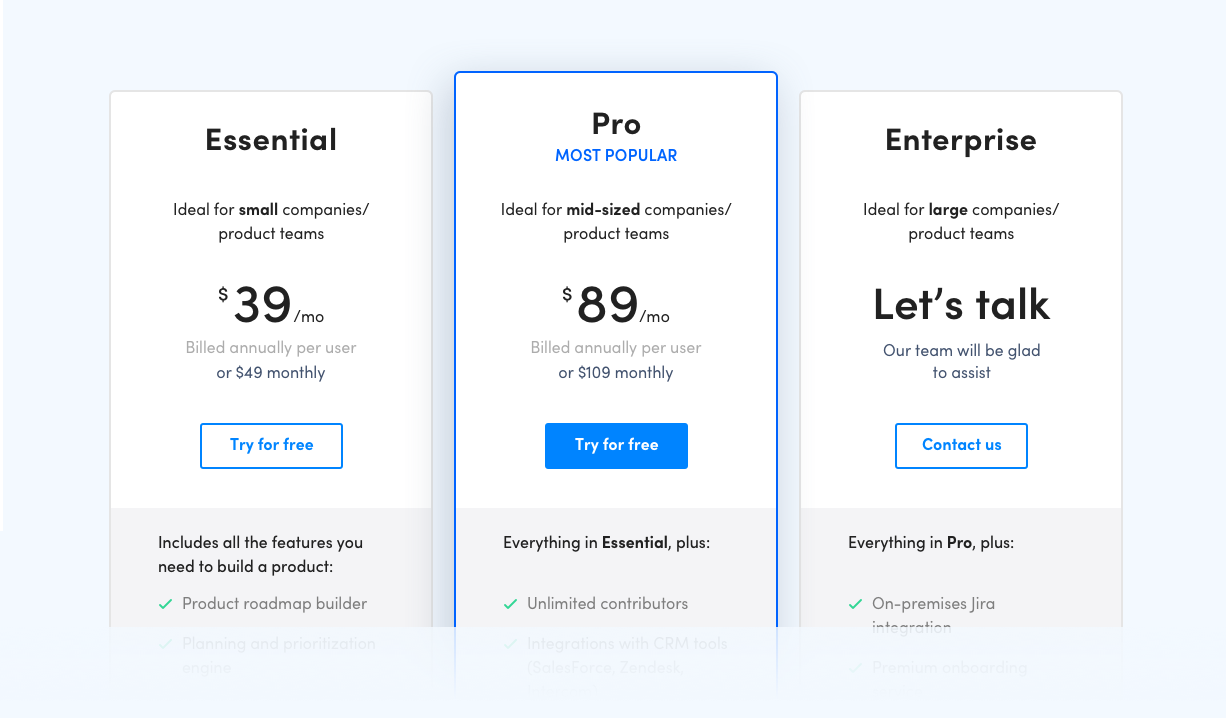 Following are our new pricing plans:
Current monthly subscribers will be grandfathered into these new pricing plans, with no price change until August 1, 2019. Beginning on August 1, our current monthly subscribers will receive discounted pricing of up to 40%. Annual subscribers will keep their current pricing until their plan re-activates, and then upon renewal, they will receive a discount on the new pricing plans.
About the New Pricing Plans
Essential Plan
The Essential plan is ideal for small companies and product teams. We've upgraded the feature set so you can build better roadmaps, plan and prioritize, write great requirements and user stories, manage feedback (the Feedback Manager is now a new and improved Customer Voice Inbox), and integrate with all your favorite developer tools.
Pro Plan
The Pro plan is designed for midsize companies and product teams. It includes all the features in the Essential plan — plus an unlimited number of contributors, the ability to liveshare any page in craft.io, and CRM integrations to Intercom, Zendesk, and SalesForce. Most importantly, Pro plan subscribers get access to the brand new Idea Portal. The Idea Portal lets you harness the voice of your customers to build better products: users can submit and vote for ideas that you can then plan into new features, right in the craft.io platform.
Enterprise Plan
The Enterprise plan includes all the features of the Essential and Pro plans, along with capabilities tailored to enterprises and large companies. Subscribers have access to premium onboarding services, an on-premises Jira integration, private cloud hosting, data encryption, customizable Idea Portal workflows, and more.
Now Get Ready for the New Craft.io
We invested in upgrading Craft.io because we're dedicated to bringing you a more valuable experience — and we're confident that these changes will deliver. We can't wait for you to check out Craft.io 3.0!
Questions? Comments? Please don't hesitate to get in touch with us – support@craft.io