Your Ultimate Guide to Product Portfolio Management
Product portfolio management is the process of managing a company's portfolio of products to maximize performance and achieve strategic objectives. This guide will cover the benefits, how to choose a PMM solution, and more.
Strategically managing a portfolio of different enterprise digital products allows a business to scale faster, track success, and drive the organizational agenda in the right direction.
What is Product Portfolio Management?
For an enterprise company or any large product organization, managing a portfolio of products is all part of a day's work. Stakeholders will continually prioritize the product needs, managing their day-to-day requirements, and considering their scale.
As the Product leader of this enterprise, whether that's the CPO, VP Product, the Director or Head of Product, or any other leadership role, Product Portfolio Management is a high-level view of this reality. The Product leader is tasked with aligning product development with what the company wants to achieve, moving away from the details of features and epics, and towards strategic decisions that deliver the value the organization is expecting. This stakeholder is aligning product delivery and scale with larger Big Picture initiatives, from grabbing market share from a competitor, to becoming the dominant player in a certain region, or adding to cross-sell and upsell opportunities for a top-ticket solution.
In this situation, you can't approach Product Portfolio Management from the ground up, by looking at products or phases in a silo. The product leader needs to be able to see a cross-functional view of all investment areas and products in a single place, with the ability to articulate and communicate their key initiatives, and align these with company-level objectives.
There are also certain challenges of Product Portfolio Management that are often closely related to orchestration. The product leader is tasked with ensuring that all of the products they are responsible for, with all of their moving parts, are working together in harmony. They have their product teams to consider, dozens or even hundreds of developers, their own OKRs to factor in, cross-functional alignment with other teams, as well as the high-level conceptual needs of the CPO. It can quickly become spaghetti junction.
The Benefits of Product Portfolio Management across the Business
Without a Product Portfolio Management solution, product leaders can easily lose visibility over their portfolio of products, and will find it cumbersome and complex to sort and aggregate data from multiple streams to provide a single and accurate view. Result? The progress of any strategic decisions over specific products or product verticals becomes cloudy.
At the highest level, this means that product leaders can't see the Big Picture, and there is no way for VPs and Directors to connect the work that their teams do with strategic planning for the organization. It becomes almost impossible to track dependencies or alignment across product lines, and the business will experience the impact of disparate processes for data between products and PMs.
In contrast, with the right Product Portfolio Management solution in place, product leaders can access:
A single source of truth: Sync, track and manage key initiatives across multiple products and product lines, adding transparency and visibility of the whole portfolio through one tool.
Connected strategy and execution: Showcase data across multiple products, connecting the work done by PMs and developers to the organizational vision at large, and prioritizing on the fly.
Top-down planning and detail mapping: Break down initiatives into work items for each product, keeping a single view but managing and monitoring data and progress in granular detail.
Cross-product line dependencies: Optimize the way that the business works as a whole, across disparate teams who were traditionally siloed. Improve efficiency and track dependencies to boost company-wide processes.
Data and process uniformity: Implement a uniform data model and a single aligned process for all teams. Standardization adds transparency and control, ensuring no crossed wires and a common language.
These benefits allow senior leadership to drive the right agenda, with business goals connected and aligned with the product portfolio. This supports smarter and more strategic investment decisions, and more cohesive and scalable orchestration.
However, the benefits continue across the organization, from Sales and Marketing, to R&D and Customer Success. Product Portfolio Management helps teams to align their roadmaps, sharing progress, better understanding go-to-market decisions, and providing a single, unified picture of customer and organizational needs.
How to Choose a Product Portfolio Management Solution
When you're shopping around for a solution that will support the needs of the Product org, ask vendors:
Do you have a simplified way for product leaders to strategize, plan, and prioritize key initiatives – affecting multiple product lines?
Can you effectively manage the complexity of orchestrating a number of product lines across multiple product organizations, including hundreds of Product Managers?
Does your portfolio management support building a high-level strategic roadmap to tell the story of your key initiatives and work being done on different product lines at the next board meeting?
Are you able to craft and implement a uniform data model comprehensively applying to all levels of the product organization company-wide?
Will your portfolio management enable you to track cross-product-line dependencies, monitoring and taking into account the impact of each one's progress on others?
Ultimately, you want a solution that is more than just a dashboard or a view, but rather a real solution for strategic, top-down product delivery at scale.
Let's Get Planning: OKRs and Initiatives with craft.io
With craft.io, Product Portfolio Management is part of a holistic product management platform that supports the whole product organization. Our portfolio management solution allows you to plan and execute product strategy across multiple product lines, and to create and manage your key Initiatives, where you believe focus should be placed to align with wider organizational strategy.
As craft.io was built for enterprise requirements, scalability comes out of the box, and the platform supports multiple product lines with hundreds of Product Managers, no matter the organizational hierarchy.
If you're familiar with craft.io, you'll be used to the ability to customize and visualize data with ultimate flexibility, and our Product Portfolio Management is no different. Provide different perspectives at the portfolio level, or for specific Initiatives and product lines, and take the story you want to tell to your next board meeting.
We've made it simple by giving you three default views to start with, Portfolio Roadmap, Portfolio Dependencies, or Portfolio Backlog, and you can also create endless custom visualizations, with multiple default and custom portfolio fields and the ability to leverage them with table, Kanban, Swimlanes, and Timeline views.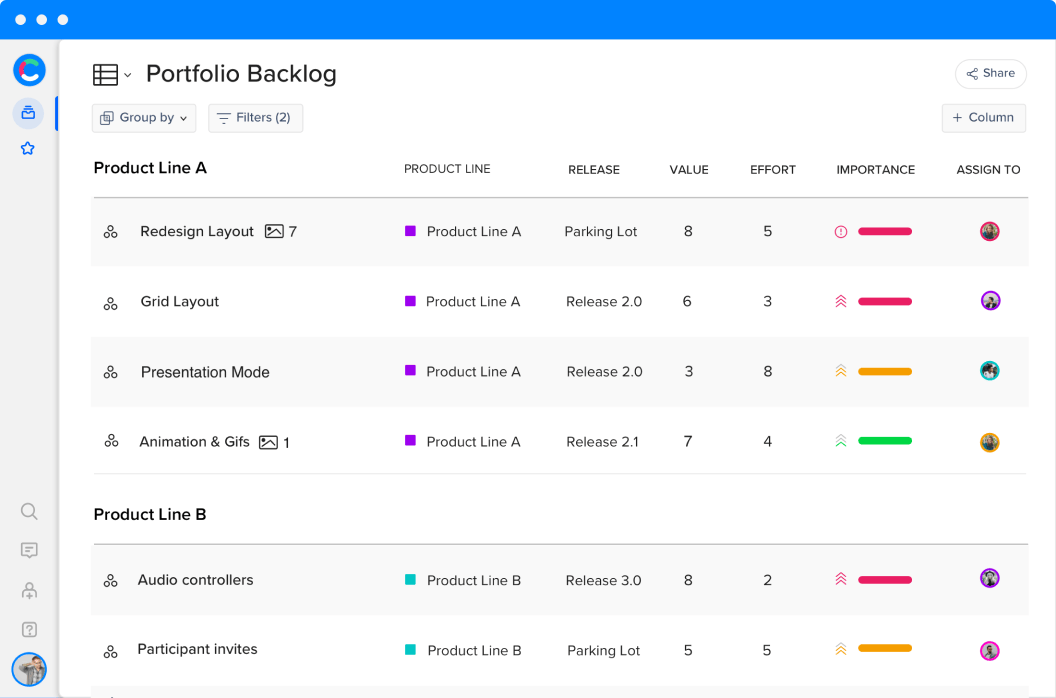 Set objectives for specific product lines, so that all stakeholders are on the same page in terms of organizational vision.
Like with any part of the craft.io platform, Guru is always at hand to help you set up with best practices and the right views that represent the data you want to be front and center.
Answering the Right Questions with Product Portfolio Management
Ultimately, senior decision makers are accountable for three things. What did you plan to do? What did you actually do? Did it work?
Product teams need to be able to share the story of how they executed on what they promised. The more senior a position you hold, the more you'll need to align this execution with organizational goals.
Leverage Product Portfolio Management to boost revenues by:
Managing dependencies across product lines, breaking down silos and boosting cross-product collaboration.
Connecting top-down product decisions for the organization with bottom-up practical product work on the ground.
Using data to align product lines, and therefore orchestrate the success of different teams as a whole.
Seeing success in meeting objectives, from reducing time to market to boosting product adoption.
Ready to see how it works in practice?  Schedule a demo of the craft.io platform.