Home > Blog > Top 10 Customer Feedback Software Solutions for 2022
Top 10 Customer Feedback Software Solutions for 2022
craft.io Team
01 Dec 2021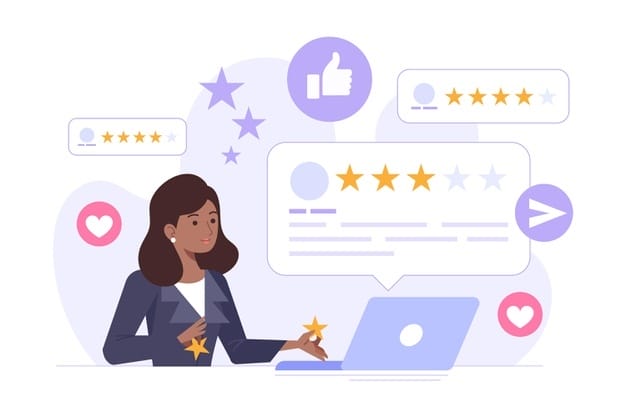 The customer may not always be right, but customer feedback is always valuable. Organizations have understood the value of customer feedback long before the advent of the internet, which of course has made surveying customers far easier. Indeed, if it's worth mailing survey ballots to customers, surely you should consider doing it over the internet as well.
Simply emailing questionnaires provides minimal benefits to product development and are frequently used for customer service betterment rather than product development. This is where Customer Feedback Software solutions come into play.
Why do you need customer feedback for product management?
Customer feedback can provide insight into how your customers feel about your product (customer satisfaction). But customer feedback can be beneficial to your business in other ways. Customers and users can provide feedback directly to product development by highlighting unmet needs or identifying new applications for your product.
Communication with your customers can also make them feel more valued. People like knowing that you heard them. This only works, though, if you make changes based on the feedback you receive. If you ask for feedback and then ignore it, your customers may feel alienated. An even better way to ensure the customers feel valued is to actively inform them of the changes you made due to their feedback. According to Gartner, only 5% of companies that gather customer feedback tell the customers that they made changes.
Getting continuous feedback from customers will also allow you to get ahead of potential problems. Problems that, if left unresolved, would lead to customers leaving.
What is customer feedback software?
Some customer feedback solutions allow gathering information about the usage of your product without asking the customer. This data is different from the results of software but can be just as valuable.
It is important to note that customer feedback differs from customer relations management (CRM). While CRM records customer information, customer feedback software gathers information about how your customer uses your product. Two very different things!
craft.io is a powerful feedback tool with an integrated  road-mapping solution made with product managers in mind. craft.io lets you easily plan your strategy from conception to implementation. The feedback portal is a robust solution for collecting and consolidating ideas and feedback, which can then be prioritized and managed through the other aspects of the software.
craft.io offers a free trial, and pricing starts at $39/mo.
Reviewer says: I've been recommending craft.io to most of my innovative clients and can thoroughly recommend using the trial to explore its vast features."
Typeform is a survey platform that puts increased response rates as the goal by taking two approaches to improve the quality and quantity of survey results. Typeform surveys have a single question per page which encourages a more conversational survey. They offer logic jumps, which are a code-free way to branch out surveys based on customer responses.
Typeform has a free version, but it lacks many more exciting features that set it apart from other survey platforms – starting at $25/mo and up to $83/mo billed annually.
Reviewer says: "The monthly response limit of 1,000 seems to be somewhat too small. It's a shame that the options are too limited. It would be nice to have a plan like a pay-as-you-use system (like other SaaS services)."
HotJar bundles user feedback into a product concerned with recording and displaying how users interact with your product. While your users remain anonymous during the recorded sessions, HotJar gives insight into which areas of your website are used or ignored. Surveys and user feedback forms are the other half of the product but not the main focus and could benefit from some improvements.
The basic version is free and might even suffice for a small-scale product. Paid versions start at $39/mo and up to $389/mo, though the $99/mo business plan will likely suffice for most.
Reviewer says: "We've used surveys, and they can be a bit clunky at times. We've had customers complain that they'll see the same ones, even after opting out. It's also not possible (to my knowledge) to modify the pop-up window, so it looks very "third-party" compared to our site."
Canny is a feature prioritization tool that lets you see what features customers need. The tool also allows customers to vote on features they want to see on a centralized platform. The payment structure is based on the number of tracked users, which may only give feedback sporadically and still require a slot in the database.
Pricing starts at $50/mo and grows primarily based on the number of tracked users.
Reviewer says: "Still a new company, so there are features they're working on that would be very valuable, but they have a great sense of priority and use their own tool!"
SurveyMonkey is a popular survey solution. Chances are you've answered a SurveyMonkey survey at some point. The survey platform is basic and easy to use. You might find it difficult to produce good lengthier surveys with this tool. But for short surveys, it does the job well.
Pricing starts at $25/user/mo for team plans or $35/mo for individual plans.
Reviewer says: "It is easy and simple to use. It does not require any technical background to use this product."
Qualaroo embeds survey questions inside your website or app. Qualaroo attempts to increase the quality of answers by asking questions in context, as the users have a more immediate experience with the subject. Another feature of Qualaroo is AI-powered survey analysis that attempts to track the mood of your users as they answer questions.
Pricing is per tracked pageview, starting at $0.0008 billed annually, which is $80/mo for 100k pageviews/mo.
Reviewer says: "The tool is effective in what it does. You can remove the Qualaroo branding from the Nudge survey and add your logo and brand colors to match it with your brand image."
Clarabridge is an aggregator of feedback from many sources such as email, chats, reviews, surveys, and ratings. The ability Clarabridge grants are feedback in one place, and the ability to derive actionable intel from the data. Clarabridge is on the more complex side of things and will require some time to learn the ropes and get it set up and maintained.
For pricing, contact the sales department.
Reviewer says: "The site tends to be glitchy and support is not helpful when concerns are brought up. These glitches affect the way we respond to customers and the effectiveness of the responses."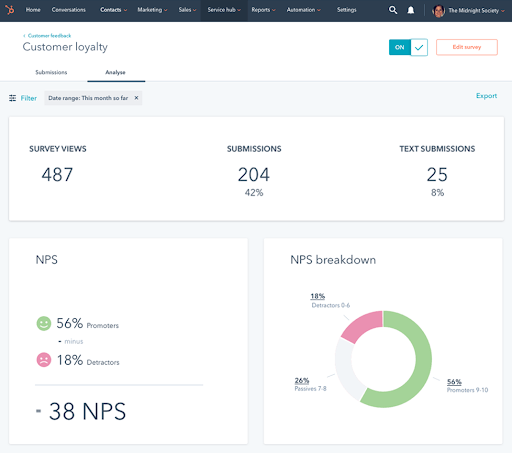 Hubspot has several solutions from marketing, sales, customer relations, and customer service. You can find a tool for any customer-related job you need, and everything bundled into a CRM. An all-in-one solution may be just what you need, or it may be overkill.
Pricing starts at $45/mo and quickly escalates to $800/$3,200 for the pro and enterprise versions.
Reviewer says: "Learning curve can be difficult for people without any CRM experience."
UserReport has two widgets that can be integrated into your website or app. One widget collects feedback and another for surveys. The survey widget helps you learn who your audience is while the feedback widget collects feedback about your product. When combining the information, you can learn what your users want and break it down by demographics.
UserReport has a free version and does not list the premium prices.
Reviewer says: "Learning curve can be difficult for people without any CRM experience."
UseRespone is an all-in-one customer service solution aggregating customer feedback, customer support, live ticketing, and live chats. The customer feedback part of the software has boards that allow users to vote on which features they want most and supports multi-language integration.
Free version available and Enterprise solution starting at $1490/year. They also offer an on-premise license for $4800/year.
Reviewer says: "I can mitigate the amount of customer support I need to provide by integrating my ticket system with my FAQ System and thereby provide answers to users automatically and immediately instead of opening a new ticket."
The first step to choosing any software solution is to define your needs and your budget clearly. Start with a list of features you must have and work your way down the list of priorities. Do you only need a survey platform? Then SurveyMonkey might be the solution for you. But if you need a complete product management solution, you might look at craft.io. Are your needs more in line with customer service? You might want to try UseResponse.
Great products start with great product management