How does a Product Roadmap tool work?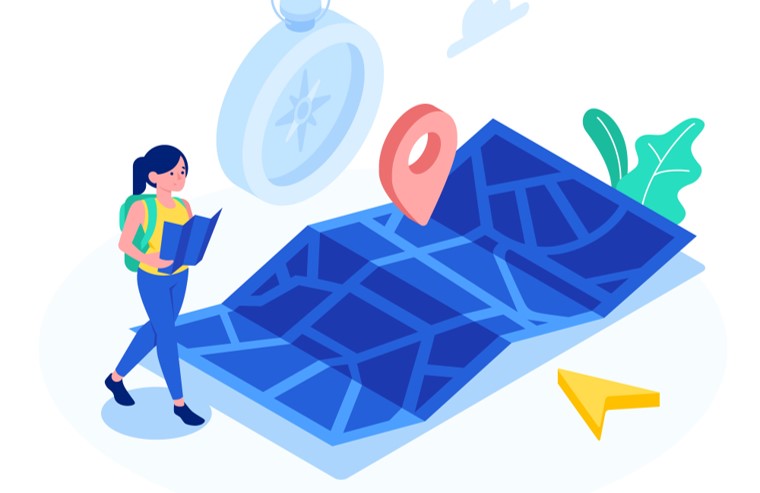 Connectivity and flexibility are at the heart of any product roadmap tool. And these factors are motivating increasing numbers of product managers to start using dedicated roadmapping tools to lay out their product strategy throughout the product life cycle. So, how does a product roadmap tool work? It is an online interface which displays all the goals and initiatives that a product manager has planned for an upcoming time period, usually split into releases. The timeline can be as long or short as you prefer, although most strategic roadmaps cover six months to a year.
Product roadmap tools usually use a drag and drop methodology, which makes it easy to build and adapt the roadmap. And the user who is reading the roadmap should be able to click on a goal to view the initiatives connected to that goal and any features linked to the initiative.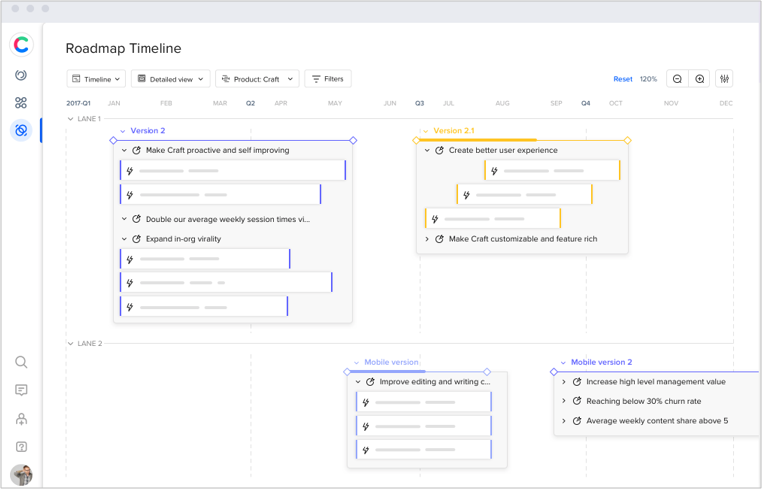 The best roadmap tools are integrated into an overall product management platform, like Craft. This ensures that all goals and initiatives can be linked to features in the backlog. The other important element is the simplicity of the user interface – a roadmap needs to be a visual tool that the reader can understand in an instant. It is worth considering whether you want to split the roadmap up with lanes that illustrate which teams are responsible for each of the goals and initiatives.
Why Choose a Product Roadmap Tool?
It really isn't very long ago that the vast majority of product managers created and shared their roadmaps using basic documentation tools like Excel, Powerpoint and even Word. That's not to say they didn't do the trick – if you want to present your plans for the upcoming quarter to management it's fine to list your goals and initiatives in a static document. After the presentation you can even share the document via email so everyone has a reference point.
The problem with this approach is that it lacks flexibility. A static roadmap can't be easily adapted for different audiences, it won't be directly linked to your backlog and the version you share won't be updated automatically.
The advantages of a roadmap tool for product managers
Dedicated roadmap tools that are created specifically for product managers have numerous advantages over both static documentation tools and more general project management tools.
1.Specialized User Interface
Product roadmap tools are designed specifically for product managers. This may seem obvious, but when you start using a roadmap tool like the one built into Craft.io, you'll immediately see the benefits of a dedicated UI.
Not only does it look good, it is intuitive and makes it simple to quickly add goals and initiatives to releases or spread them over releases. If you've planned your roadmap in advance, it'll take you just a few minutes to build a beautiful, color-coded roadmap with lanes that split the items into various teams.
2.Interconnectivity
A static roadmap is just that – lifeless and sedentary. An online roadmap, meanwhile is full of life as it can be quickly connected to all your initiatives, features and stories – including those in development and your feature backlog.
Another major advantage of using product management software like Craft, is that all the products in the product team can be managed on the platform. Although there is no need to combine anything while the product manager is planning their product, the interconnectivity of the roadmap tool allows you to incorporate multiple products in one strategic roadmap. This allows you to show the overall picture for the entire product portfolio,
3.Flexibility
When building a roadmap you should never take a one size fits all approach. It is essential to consider the type of audience you are aiming at when creating your roadmap. For example, a roadmap for a meeting with senior management will probably only contain high level goals and initiatives whereas the roadmap you share with your development team might make it clear which features are to be included in each initiative.
Using a roadmap tool makes it simple to adapt the roadmap for the audience using the various dropdowns and options. This saves the hassle of creating multiple roadmaps each time.
4.Shareability
It's one thing to email a document to the audience after presenting your roadmap to them. At least they will have a copy. But it's much better to use a Liveshare option like you'll get with Craft. This means that if you make any changes to the roadmap they will instantly be reflected and updated in the roadmap that you shared.
Types of product roadmaps
The flexibility of product roadmap tools like Craft's allows you to build various types of roadmaps.
They include:
The regular strategic roadmap.
A more focused feature roadmap.
A multi-product roadmap.
A portfolio roadmap that reflects the plans for various teams in one viewpoint.
1. Strategic Roadmap
A strategic roadmap is a goal-based document – it's aim is to show the reader the overarching plans for the product from a strategic perspective. What do you actually want to achieve, rather than what specific features do you plan to introduce. This roadmap is most appropriate for meetings with external stakeholders or upper level management.
2. Feature Roadmap
A feature roadmap is a more specific document – it's aim is to show the reader which features the product team is planning to develop and when they expect them to be released. This roadmap is most appropriate for sharing plans with colleagues, such as the development or marketing teams.
3. Multi-product Roadmap
A multi-product roadmap brings together all the roadmaps created by the various product managers in the team. This roadmap is most appropriate for when a product team leader needs to present the product team's overall plans and how they all fit together.
4. Portfolio Roadmap
A Portfolio roadmap is one level up from the multi-product roadmap. It is used to show the plans of various teams within the product group and how the product management team fits into the overall plans. This roadmap is most appropriate for a meeting of all the teams involved in the product process so it is clear how it all fits together.
Tips on how to use the product roadmap tool
When you use a product roadmap tool there are a number of different features you can take advantage of to improve your roadmap.
1. Choose your viewpoint
You can choose to display the roadmap in a regular "Roadmap" view or in the more detailed "Releases" view.
The Roadmap view is a classic timeline that shows when each initiative and goal is planned.
The Releases view splits the goals and initiatives into releases and includes statistics such as completion, value and effort.
2. Add milestones
Milestones are significant events that will occur during your timeline. You can add them to the top of a lane so it is clear why you are planning to release the new version then – to coincide with a conference for example.
3. Make your roadmap "dateless"
If you prefer to avoid committing to specific dates you can easily choose dateless mode. This can be preferable when presenting to external customers so you don't disappoint them by not delivering on time.
4. Link features to a release, goal or initiative
It's easy to link a feature from your backlog to any of the containers in the roadmap. In the Releases view you can just click "Assign" and choose as many features as you want from the list.
5. Color-code your releases
Considering the visual nature of a roadmap tools like Craft include the option to give colors to each release so they stand out distinctively. To do this just click on the three dots on the left menu and select a color.
Product Roadmap vs. Product Backlog Differences
There are many similarities between a product roadmap and the product backlog – both contain a list of things that the product manager is planning to develop over a specific period of time. The difference however, is in approach. A roadmap is a strategic document used to portray the overarching aims of the product.
The product backlog, meanwhile is a practical list of the features that need to be developed in order to achieve those aims. The roadmap and the backlog are complementary – and using dedicated product management software like Craft.io allows you to integrate the backlog into the roadmap, so the viewer can see which goals and initiatives have motivated the desire to develop each feature.
Plan Your Roadmap with Craft – get a Free Trial
Craft's Product Management Platform includes a powerful, dynamic roadmap tool, designed to help product managers communicate their plans and make better product decisions. Try it out right now with a 14-day free trial or book a personal live demo with one of our product experts.