Home > Blog > 7 Awesome New Features Released in Q4, 2022
7 Awesome New Features Released in Q4, 2022
craft.io Team
Published: 26 Jan 2023
Updated: 21 Jun 2023
You don't earn both the International SaaS Award for "Best Enterprise-Level SaaS Product" and G2's "Best Est. ROI" badge just a few months apart unless you listen to your users and  continuously make your solution more valuable for them.
But we recently won both of these awards (and several others) for our product management platform. Already the most complete solution of its kind for Product Managers and Product Leaders, we added even more value for our users in just the last few months of 2022.
So, whether you're looking for a product management solution for your enterprise or for your small team, we wanted to tell you about the new features our customers are raving about. 
7 Cool New craft.io Features to Help You Build Great Products With Confidence
As you might know, you can use pre-built templates in craft.io's Guru Layer to write a requirement for epics, features, etc. more quickly and easily. And with our new Default Workspace Templates feature, admins can now define a default template per each item type, so when a new item is created, its description will be populated with the default template.
This will improve consistency across your organization by ensuring your team is working from a common template to create requirements for features and epics.
 For example, once you assign a specific template for feature specs in your craft.io workspace, anytime someone on your team creates a new feature spec, the form will auto-populate with those details. You'll align your team around shared work practices, keep your product content consistent, and save time for workspace members.
Learn more about Default Workspace Guru Templates.
2. Sprint Panel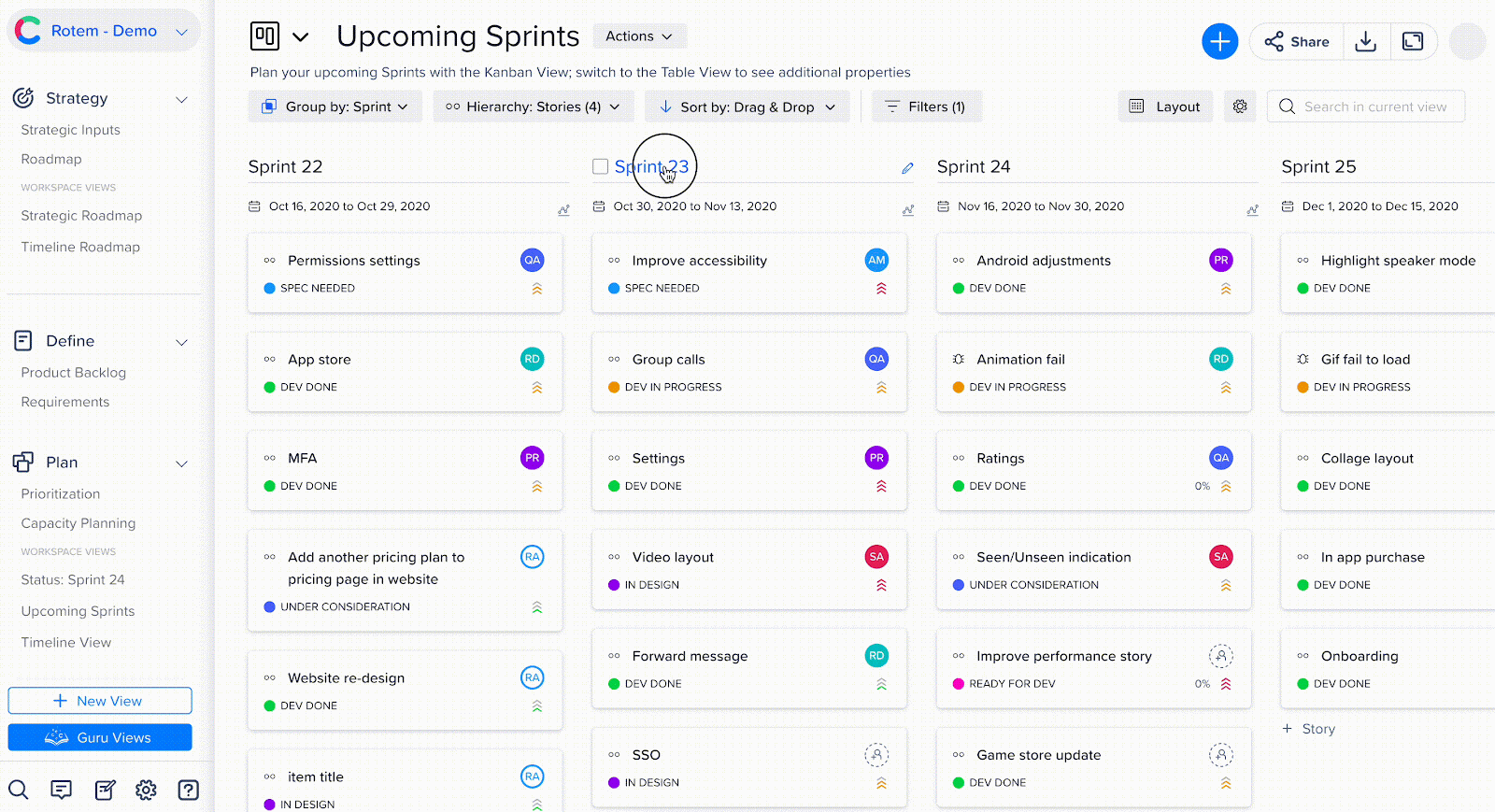 craft.io has always included sprint-planning capability, but until recently Product Managers could view and manage their sprints' contents using only the Kanban view.
So we recently released a Sprint Panel — a designated area just for sprints. You can now view and edit your sprint's contents using whichever visual framework you choose, whether that's work by team, product or dev status, a dependencies view, or one of craft.io's predefined prioritization frameworks.
Your Sprint Panel will make it easier than ever for your teams to stay aligned on upcoming work and collaborate to plan sprint scopes. 
Learn more about the Sprint Panel.
3. New Guru Fields
Among the many product management best practices built into craft.io's Guru Layer, you'll find preset fields that you can add to your product content to help you manage and prioritize your items. In late 2022, we added three new Guru Fields to craft.io: 
Magnitude

(shown above) lets you emphasize the size or potential impact of an item using emojis — where, for example, you'd represent a smaller item with a bicycle and a company-changing initiative with a rocket ship.
RAG

(red/amber/green) lets you illustrate the status, health, or progress of an item by color.
Volume

lets you depict an item's status or completeness using emojis showing various phases of the moon.
See these new Guru Fields in action.
4. Feedback Portal Usability Improvements
So, here's the hilariously meta scenario: Our Product Managers at craft.io reviewed feedback of Product Managers who've been using our Feedback Portal. Then we used those insights to make craft.io's Feedback Portal more user-friendly for Product Managers.
That meta-madness led to these usability improvements: 
Sticky header

: You can now maintain header context and functionality, such as sorting and filtering, while you scroll between different feedback items.

Improved filters

: When you choose a filter to view your content, it now applies automatically so you no longer need to click the "apply" button.
Learn more about our Feedback Portal Usability Improvements.
5. Item Conversion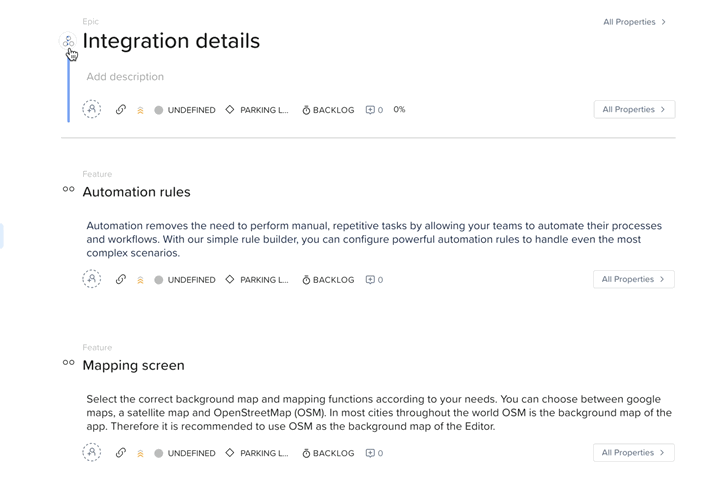 craft.io has always allowed users to redefine existing items at the feature level — meaning you could later redesignate a Feature to a Task, Requirement, Bug, or Idea. But up until now, you couldn't convert an item to something on a different hierarchy level.
With our updated Item Conversion capability, though, you can now move items to different levels — meaning you can convert a Product to an Epic (or vice versa), an Epic to a Feature (or vice versa), and so on. In fact, craft.io's Item Conversion capability lets you change items one at a time or in bulk by selecting more than one item at a time.
And when you convert an item, its children will automatically be converted based on the item's new hierarchy level. 
Learn more about the new Item Conversion capabilities.
6. Collapse & Expand Navigation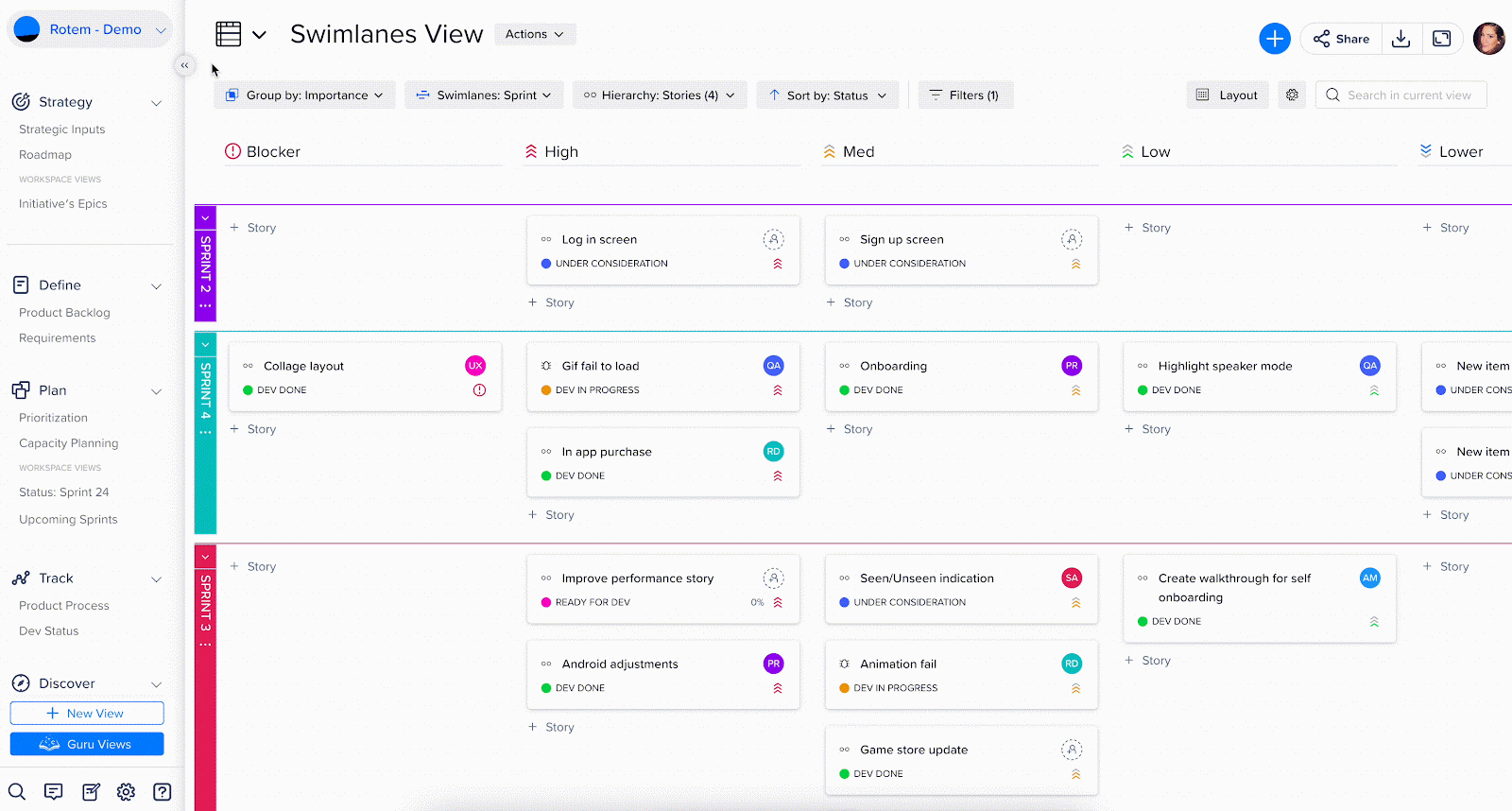 When you're moving quickly between product content views and screens to execute your everyday product management tasks, you want as much screen real estate as possible for the content you're working on. That's why craft.io has introduced a single-click option to collapse the navigation menu on the left side of your screen — to reduce distractions as you work on your important tasks.
And when you need to expand that left-side navigation menu again, you can access it with the same single click. 
Learn more about the Collapse & Expand Navigation feature.
7. Presentation Mode
We saved our favorite new feature for last. craft.io's new Presentation Mode lets you display  your roadmaps, prioritization frameworks, sprints, capacity planning, feedback analysis, and other product content in full-screen, distraction-free mode.
Our new Presentation Mode is ideal for team meetings when you want to present your plans and other strategic content on larger screens. It's also great for helping you capture clean screenshots for use in slide decks or other materials.
See our Presentation Mode in action. 
We're Always Enhancing craft.io for You
As a craft.io user, you'll find new functionality and product enhancements coming out all the time. We're constantly working to make our solution more valuable for product teams like yours. So if you haven't signed up yet, try craft.io free for 14 days — and find out for yourself why this is the product management tool of choice for world-class companies like SAP, Cisco, and Kimberly-Clark.
Let us show you what your team can do with craft.io – Try it for free.
Great products start with great product management