Home > Blog > 10 Steps You'd Better Include in Your Digital Product Development Process
10 Steps You'd Better Include in Your Digital Product Development Process
craft.io Team
Published: 10 Mar 2022
Updated: 05 Aug 2023
Digital Product Development Is Smart for All Companies Today (Even Those Selling Physical Products)
When they hear "digital product development," many companies – especially those selling physical products in brick-and-mortar stores – tune out. They assume, incorrectly, that digital products refer only to what businesses are building for their customers, and that another popular concept in business today – digital transformation – refers only to companies making the shift from selling physical to digital solutions.  
But as we'll explain in this post, digital product development refers to any software solutions a business needs to operate more effectively and efficiently. This includes internal, backend software for operations such as inventory management and other forms of logistics.
That's why, as we'll also demonstrate below, all businesses can benefit from implementing processes for digital product development. And it's why one of the businesses managing the largest-scale digital product development initiatives on Craft.io's product management platform is Kingfisher, one of Europe's most successful home improvement store chains. To learn how this retail giant is making the digital transformation, check out our webinar with the company's Senior Product Manager.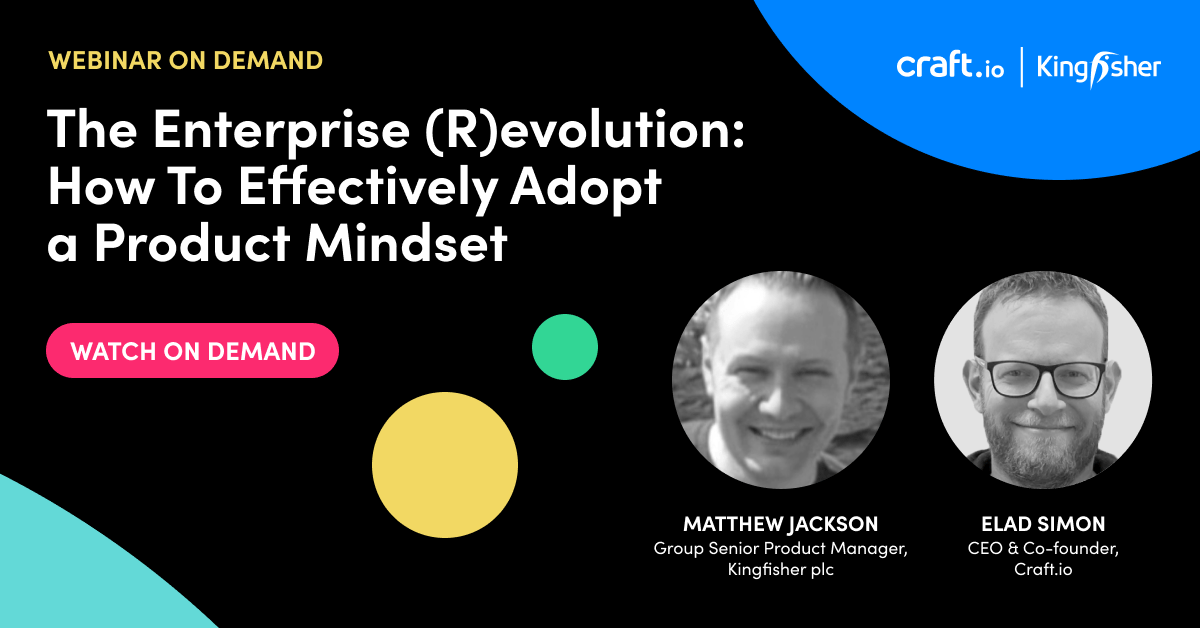 Here's another example: Even though the company does not sell digital products, Kimberly-Clark's product teams use Craft.io to create digital solutions that help improve the company's bottom line and the customer experience – from backend apps to manage their supply chain, to AI-driven analytics to better match consumers with the right products for them.
Want to see what Kimberly-Clark's award-winning product teams
are getting from Craft.io?
10 Steps to Digital Product Development Success
If you're not sure where to start on your road to digital product transformation, here's a 10-step process to get your team started.
1. Ideation
The first step in the product planning process is ideation – identifying problems or challenges facing your customers (or your internal teams), and developing ideas to solve those challenges. The good and bad news here is that you'll often have more ideas than you can act on. As a Product Manager, you'll likely be receiving requests and suggestions on a regular basis for functionality or new solutions from many stakeholders – customers, prospective customers, your executive team, your sales reps, etc.
Beware of simply acting on feedback from customers. Feedback can be useful, but you need to subject each request to a rigorous test: weighing it against other ideas, determining whether the idea supports your business objectives, and estimating the degree to which executing on the idea can improve your company's bottom line.
This is why one of the most valuable exercises you can perform during your ideation stage is to subject the various ideas your team is considering through a proven prioritization framework.

2. Research
After you've narrowed your list of potential digital products down to one or two strong candidate', you'll need to determine the viability of the idea, learn about your target user or buyer persona, and investigate the competitive landscape.
Note: This also works for internal digital products, like the ones Kimberly-Clark uses to enhance its operations. If you talk with the internal teams that would need your backend digital product and then research the market for similar solutions, for example, you might discover that a digital tool already exists that could solve your company's operational challenge. In that case, you might choose to buy rather than build this solution.
3. Hypothesis
At this point, you've chosen a digital solution to develop and verified through research that building it will benefit your business. Now it's time to create a hypothesis – a data-supported estimate about what the specific benefits the solution will generate, how much revenue or new customers it will bring in, and any other relevant success metrics or OKRs you want to track.
4. Capacity
Before you move forward with the next steps of your digital product development, such as creating your roadmap, you'll need to determine your budget for the initiative. Knowing how much money you'll be allocated for the end product, how many development resources you'll have assigned to the project, and other key details will help you plan and prioritize the initiative more strategically.
Pro tip: If you find that you're more resource-constrained than you had hoped for your digital product initiative, you can find practical tips for stretching your limited budget in our webinar on weathering an economic downturn:
5. Design
Design lets you visualize your product and cut down development time by creating clear specifications. Tools that create interactive wireframe prototypes can be used as mock tests for your potential users. These mock-ups allow for data collection and design iterations before a digital product gets developed.
Pro tip: To both improve and speed the design stage of your digital product development, you'll want to tighten the communication and reviews between the product management and UX/UI design teams.
One way to do that is by making sure your designers can drop their mockups or wireframes right into your product management software. Integrating your design and product management apps will both help designers review their work against your specifications, user personas, or other details, and it will make it easier for you to review these designs in the product management platform you're using to manage your product content.
For example, the Craft.io product management platform integrates with many popular design tools – including Figma, Miro, Adobe XD, and InVision.
6. Rapid prototyping
With your product designs nailed down, you can begin developing your digital product. One great way to do this is with rapid prototyping, an agile methodology that helps your team quickly turn your designs into a working version of the digital product. This speedy method of development supports the next step in the process, building and launching a minimum viable product.
7. Minimum Viable Product (MVP)
Remember, one of the key benefits of developing and implementing digital products is the speed with which you can create them, launch them, and then study user behavior and feedback to improve them. The best example of this speed to market is the MVP, which distills your ideation, brainstorming, prioritization, and inputs from your user personas to determine the few pieces of functionality the early version of your digital product truly needs to solve the key problems for customers.
If you perform the steps above thoughtfully and strategically, your MVP has a better chance of resonating with the market. As Kimberly-Clark's Sunny Pervez explained, "The great thing about this approach is that you don't have to solve everything upfront. You can take an MVP approach and continuously build on it. I'll never forget what a product manager told me. He said the goal is no longer a minimum viable product – it's a minimum loveable product."
8. MVP validation
You've placed your minimum viable (or, ideally, loveable) product in users' hands and are now monitoring how they're using it. (Remember, one of the great advantages of digital products is that you can see exactly how, when, where, how often, and by whom your products are being used – not something you can do so easily if you sell vacuum cleaners.)
During this stage, you'll compile and analyze usage data, actively seek out feedback from users, and leverage those learnings to begin developing an improved version of the MVP as soon as possible.
9. Feedback loop
At this point, you've established an effective, repeatable process for digital product development. You release functionality or other enhancements to your digital product, let customers use the product, monitor how they're interacting with the solution, and leverage that feedback to continually improve your product.
10. Scaling
As you're applying your ongoing learnings from the market to enhancing your product, you can also scale up the process – by adding more functionality, growing your development teams, or otherwise adding capacity to the product over time.
But keep in mind, the more you scale your digital product operations, the more data you will need to create, manage, update, track, and share. That includes backlogs, roadmaps, capacity planning, feature definition, user personas, product designs, user feedback, prioritization exercises, and more.
So, to the extent that your product data grows, you'll want to make sure you can keep it all synced and accessible in one digital platform you share with your entire cross-functional team. That digital platform is Craft.io.
3 Big Benefits of Digital Product Development
But, why should it be important to your company that you prioritize creating an effective process for developing digital products – whether those products are the end-user solutions you're selling or, like Kimberly-Clark, internal tools you're building to improve your operations? Here are three big benefits of digital product development.
1. Insight
Here's how Sunny Pervez, Kimberly-Clark's Product Transformation Office Leader, described how his company is using the insights they're gaining from building digital products using Craft.io: "With better engagement, we're enabling teams to make data-driven decisions about how to increase sales and create long-term customer relationships. Our digital products will always be there to support our physical products."
2. Speed
With the improved data and insights that you'll gain using digital products, your team will be in a better position to quickly create MVPs (minimum viable products) and more accurately anticipate customer needs.
This will help your products remain competitive, gain real-time customer feedback, and adjust your products to better align with your users' preferences and goals. Good digital product development processes also allow for quicker designing, wireframing, and prototyping iterations – resulting in a continuous improvement of user experience at scale.
3. Visibility
Finally, effective digital product development processes help to centralize teams across an organization into a shared digital environment where they can monitor each other's progress and improve team productivity.
To the extent you can pull your various teams (product, development, UX, design, etc.) into a common digital environment to manage and update their work, your company will gain increased visibility into overall progress of your initiatives and how your teams are working together.
A strong digital product development process also helps you uncover process inefficiencies such as bottlenecks, dependencies, miscommunications, and capacity challenges. You'll always have limited resources and limited time to execute on your product strategies. Anything you can do to gain more visibility into your teams' commitments and available resources will help you as a Product Manager get more done with less.
Besides, considering your competitors are likely already developing these processes for their operations, developing an effective, repeatable process for digital product development is quickly becoming a necessity for your organization.
Great products start with great product management