Home > Blog > 7 Agile Project Management Tools for Your Team
7 Agile Project Management Tools for Your Team
craft.io Team
Published: 02 Mar 2022
Updated: 11 May 2023
Agile is the backbone for a majority of successful projects. 98% of companies that have adopted the flexible approach to development have been helped by doing so. But not every team can deliver agile projects effectively and efficiently. While the major foundational concept of agile – ship fast and ship often – is simple, many teams struggle.
Why? Because sticky notes and manual cork boards do not account for a project's complexity, size, and moving components. This basic, all-too-common, agile implementation might work for small projects – but once your requirements grow too big for the board, this method can quickly fall apart. Another shortcoming pertinent to today's work environment is that the sticky note method is impossible to implement in a remote scenario. 
Fortunately, powerful agile project management tools are available that have more bandwidth than a wall of sticky notes and a wider reach than a single room. Let's take a closer look at agile project management tools, why you should be using them, how to choose the right one for your team, and seven great tools to manage your next project.
What are agile project management tools?
Agile project management tools are powerful and versatile software that provide teams with task tracking and guidance over the project's duration. They can help team members stay on track, ensure high visibility of progress, and the management of feasible deliverable timelines.
Agile project management tools are also communication tools, allowing team members to collaborate and communicate from any location. They also provide a centralized framework that externalizes project task expectations. This gives team members the ability to clarify uncertainties and log notes on the assigned tasks easily. 
What are the benefits of using agile project management tools?
Agile project management tools provide several key upsides to team members, owners, and managers. These include:
Early Bottleneck Identification
A bottleneck can quickly derail your project's delivery. Quickly identifying bottlenecks through historical data and visual sequencing of tasks can prevent this from occurring. The ability for team members to self-identify potential bottlenecks also increases the overall project's delivery speed by mitigating a potential problem before it becomes one.
Centralize Project Management Capabilities
Agile teams work best when everyone is aware of the bigger picture. Centralized project management allows team members to cross-collaborate on tasks. It increases the project's delivery efficiency through the ability to quickly reorganize tasks based on changes caused by discoveries. It also gives the project manager a birds' eye view of everyone's responsibilities, expected outcomes, and delivery timelines.
Track Team Performance
The ability to track time through agile project management tools gives agile teams the ability to accurately assess time estimates against reality. It also externalizes and documents timeframes that can be used for similar future projects.
Task Completion Velocity Reporting
Velocity measures the amount of time a team needs to complete in a single sprint. It is also a key metric for agile projects and scrum-based agile project setups. Knowing the rolling average of your team's velocity can give members and project managers the ability to effectively manage resources and maintain constant project delivery.
How to Choose the Right Tool for Your Team
Every project management tool aims to make your team a productive one. However, not just any tool may be the right one for the specific needs of your team and project. Here are some factors to consider before choosing your project management tool:
Team Size
Team size matters. Some tools are created for small to medium-sized teams that are self-organized. Other tools are created for multiple project management with centralized reporting systems. Some teams are cross-departmental, which lets the members work more efficiently because they can quickly see if there is too much (or too little) in their backlog in different areas.  Choose a tool that capably meets your team's size requirements, and be sure to leave room for expansion if that's a possibility on your project.
Project Complexity
Different types of agile projects have different levels of complexity. An agile marketing campaign will require different types of tasks and subtasks in comparison to a full-stack software development project. The number of relationships connected between tasks can also grow depending on the type of project. Your tool needs to be able to handle all the detail your project has to offer.
Communication Style
Does your team prefer email? Does your team need the ability to filter task types? What about file sharing and commenting? Every team has a preference and some methods can organically establish themselves in self-organizing agile teams. An efficient project management tool is one that is able to cater to your team's most effective and preferred communication methods and needs.
Now that we know why you should be using an agile project management tool and how to choose one, let's survey seven popular tools that might be just the thing you need for your next project.
7 Agile Project Management Tools for Your Team
craft.io is the ultimate project management tool for agile product development. In fact, craft.io is unique since it is not a one-size-fits-all solution. It is designed specifically for Agile product teams. Frameworks for best-practice prioritization, a variety of templates, and capacity planning in multiple dimensions allow users to increase output accuracy while streamlining and standardizing product management. Live dynamic roadmap links, cross-team collaborative workspace capabilities, and powerful integrations with both popular development and user feedback tools make this product management platform a must-have for agile product development.
Price: craft.io offers a 14-day free trial, then 3 annual pricing tiers – Essential at $39/month per user, Pro at $89/month per user, and custom pricing at the Enterprise level.
JIRA is designed primarily with IT professionals, UI/UX designers, and development teams in mind. Its main features include burnout charts, cumulative flow diagrams, customizable scrum or Kanban boards, velocity charts, epics reports, and sprint reports. Users can integrate JIRA with other developer tools, and there are dozens of additional add-ons.
Price: JIRA is free up to 10 users, with paid plans ranging from $7-14 monthly per user. A free trial is available.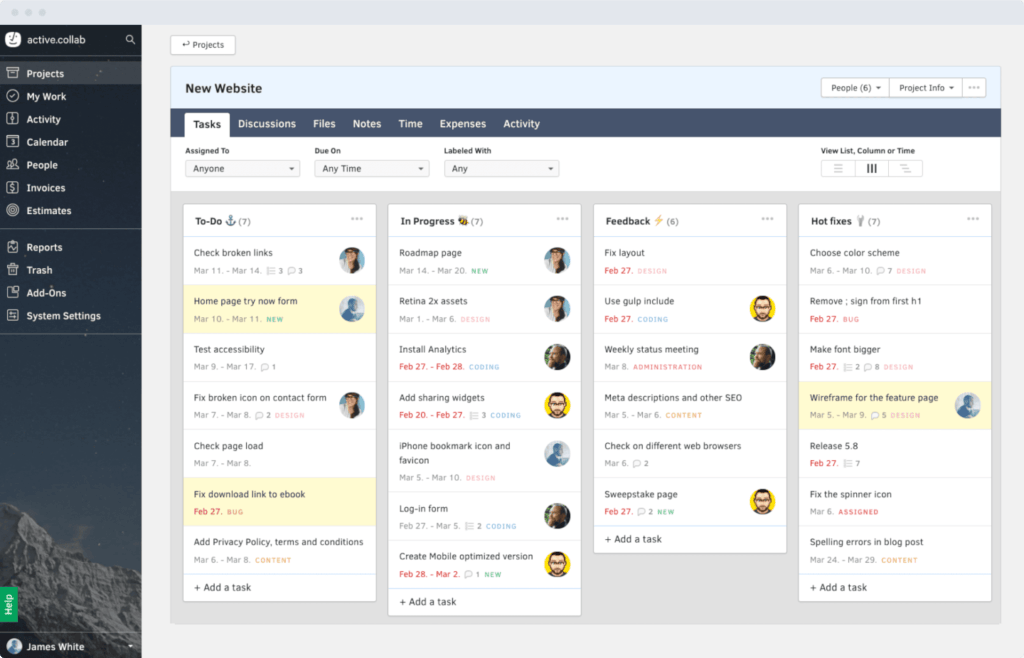 Active Collab is a project management tool, tailor-made for SMBs. It hosts a powerful document management tool, which can determine what each user can see, access or share. The tool offers priority & task control, collaboration tools, budgeting, billing via an app, time tracking, client portal, brainstorming, and other features that any self-respecting standout agile project management tool offers.
Price: Active Collab charges $7.50 per 3 users/month, on an annual basis. A free trial is available.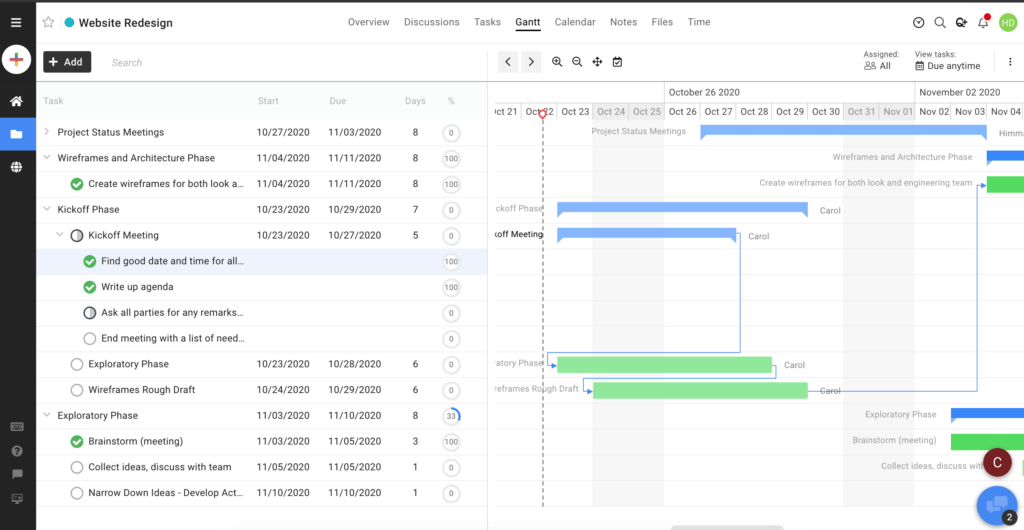 ProofHub is a cloud-based management tool that has many features for agile-minded project managers. Use Kanban boards to define workflow stages, while Gantt charts allow you to visualize the project's timeline and synch its completion. Comprehensive collaborative tools, including chat, are available for connecting with team members. Additional features include creating and dividing tasks, selecting one or more assignees per task, scheduling, and an online proofing tool for real-time feedback 
Price: ProofHub is $89/month, billed annually. A free trial is available.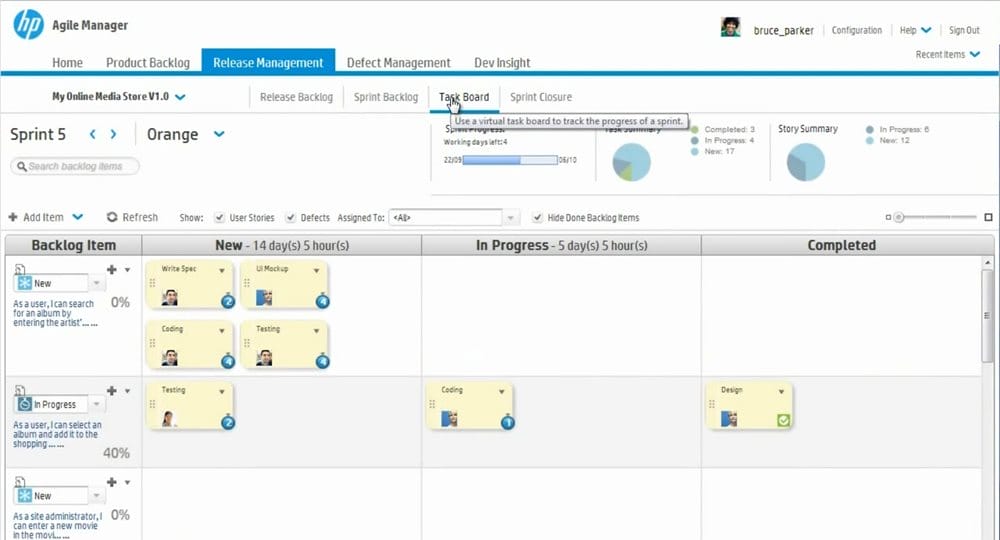 HP offers an agile product management tool that features a fully visible work environment. It provides advanced development analytics that offers more detailed insights for more informed decisions. It has a drag-and-drop interface for easy sprint planning, team member access for the project timeline, potential issues alerts, and release planning boards that give the entire team insight into the entire process. It also offers customizable dashboards.
Price: Agile Manager has several pricing tiers – a Flexible Term (minimum 3 months) at $39/month per user, Month-to-Month at $49/month per user, and an Enterprise tier with custom pricing. Free trials are available.  
ClickUp is a cloud-based tool well-suited for agile project management and collaboration. It offers the ability to manage, contact, organize, track, and measure team progress from start to finish. Users can customize plans and delegate tasks, share, and chat easily in real-time to make sure everyone is in synch. Hundreds of automations and a suite of integrations with popular development tools increase user productivity.
Price: ClickUp has a "free forever" plan, for personal use, three pricing tiers ranging from $5-19/month per user, and a custom-priced Enterprise level for large teams.
Pivotal Tracker is a tracking-focused project management tool for agile software development teams. All users have access to workflow, conversations, project status, and documents in one central location. Collaboration is based around a shared backlog, and automated velocity tracking gives team members an honest appraisal of timelines. It also has integrations with many popular apps.
Price: Pivotal Tracker offers four pricing tiers based on team size, from free for small teams, to two priced tiers for mid-sized teams ($6.50/month per user or $10/month), and custom pricing for Enterprise teams. It's free for public projects, educators, and nonprofits.
Get the Most Out of Agile with the Right Tool
Agile project management allows project and product managers flexibility and speed to continuously improve their results with a user-centered approach. It offers teams ways to ease bottlenecks, track performance, and collaborate centrally to get better outcomes, faster.
Using agile project management tools is ideal for managing a project, keeping it all on track, and fostering collaboration and communication in your team. 
Choose the right tool that meets the needs of your team and project, then take advantage of its features to accelerate your project towards success. It's the best way to get the most out of the agile process and create products that users want.
Great products start with great product management