Home > Blog > The 16 Best Product Management Tools for 2022
The 16 Best Product Management Tools for 2022
craft.io Team
28 Oct 2021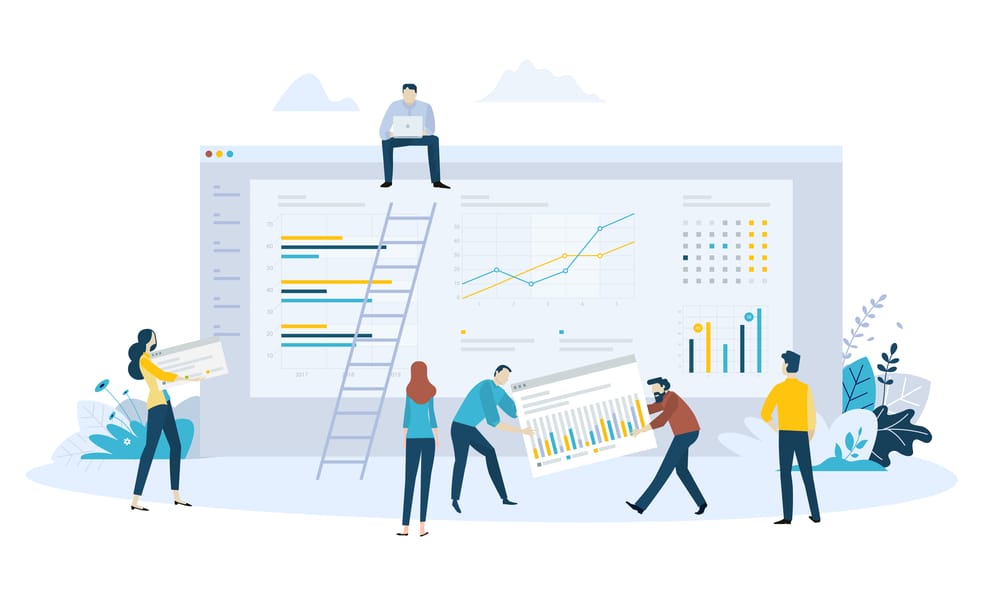 Buyer expectations are higher than ever, and many companies sell long-lived products that depend on strong customer relationships. The best product management software goes beyond the development and deployment stages and includes features for building a strategy around the entire lifespan of the product. 
Today, as the novelty of remote work is quickly becoming the norm, the demand for seamless and glitch-free platforms is rising. Nowhere is this demand for perfection more pronounced than in the product management software space which is seeing a massive influx of new solutions for a plethora of niches. Competition has also led to consolidation which is great news for the end-user. The following looks at the best product management solutions, specifically for product managers and entrepreneurs who are on the market for malleable and robust solutions in 2022.
What are Product Management Tools?
Product management tools are the software programs that assist you in managing the entire lifecycle of a product, from initial development to launch to ongoing user support and everything in between. These tools are designed to facilitate all of the planning, design, and testing that goes into the deployment of your product.
Some product management tools are designed for specific purposes, others are intended to be comprehensive platforms. Here are some of the key functions you can expect them to include:
A/B testing
Analytics
Communication channels
Feedback collection
Project and task management
Prototyping
Roadmapping
User experience optimization
User activity tracking
Wireframing
Product management tools can save you time, help your teams collaborate more effectively, and lead to better decision-making and better products.
Why You Need Product Management Tools in 2022
One of the best things a good product management software stack can do for you is improve communication between team members and give them new ways to share their ideas and collaborate. When everyone is off using their own tools, workflows, and messaging channels, it's all too easy for everyone to spin off in different directions and waste time trying to get back on the same page.
Product managers spend more than half of their time dealing with unexpected issues. The right product management tools will help you stick to your schedules, manage your resources more intelligently, and make it easier and quicker to onboard new team members.
Top 16 Product Management Tools for 2022
Product Management, Collaboration, and Roadmapping
This full-featured platform is designed to help product managers turn vision into strategy, and strategy into deliverable, prioritized tasks. craft.io puts the user story front and center and places a strong focus on transparency and collaboration, making it easy to share plans and resources that bring not just your teams but all stakeholders in the product into alignment. Annual plans start at $39 per month for the Essential version and $89 for Pro.
Product management doesn't end at launch, and ProdPad's offering takes this fully into account with a user-focused platform that's suitable for companies with long product life cycles. ProdPad comes with support for roadmapping, backlogs, versioning, and customer feedback. Yearly pricing is $149 per month for Essential, $449 for Advanced, and $1,299 for Performance.
Task Prioritization and Project Management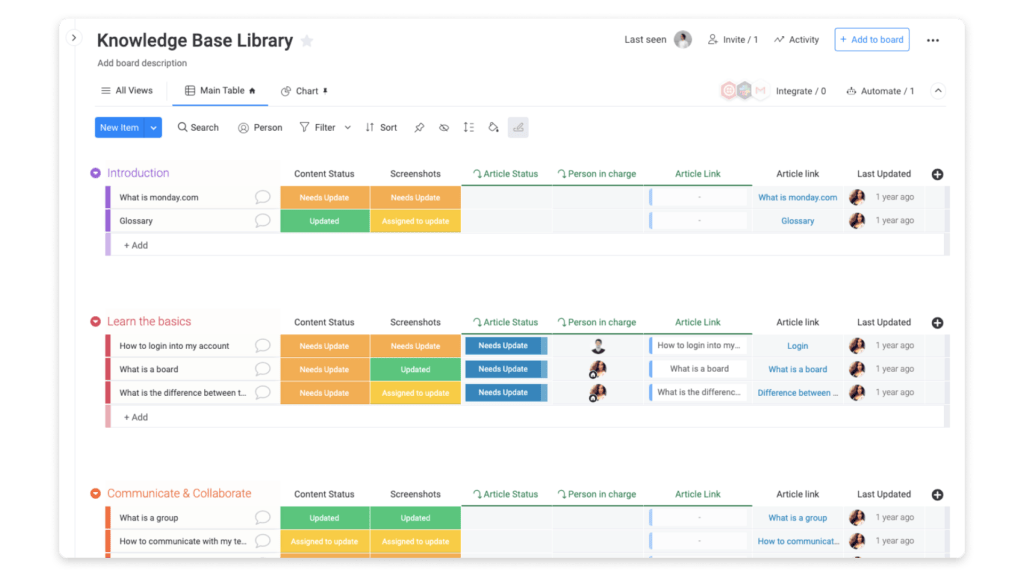 If there's too many cooks in your product development kitchen and too many tasks to delegate, a cloud-based project management platform can be of use. Agile, scalable, and customizable, Monday.com's ease of use and long list of features make it a suitable choice for many types of businesses and teams. Paid annually, the Basic plan is $8 per user, per month. Standard is $10, and Pro is $16.
Asana provides a project management platform for assigning tasks, tracking their progress, and keeping stakeholders in the loop. Widely used and affordably priced, it can be adapted to the needs of product development and support teams. Asana offers a free Basic plan. Billed annually, Premium and Business plans are $10.99 and $24.99 per user, per month, respectively.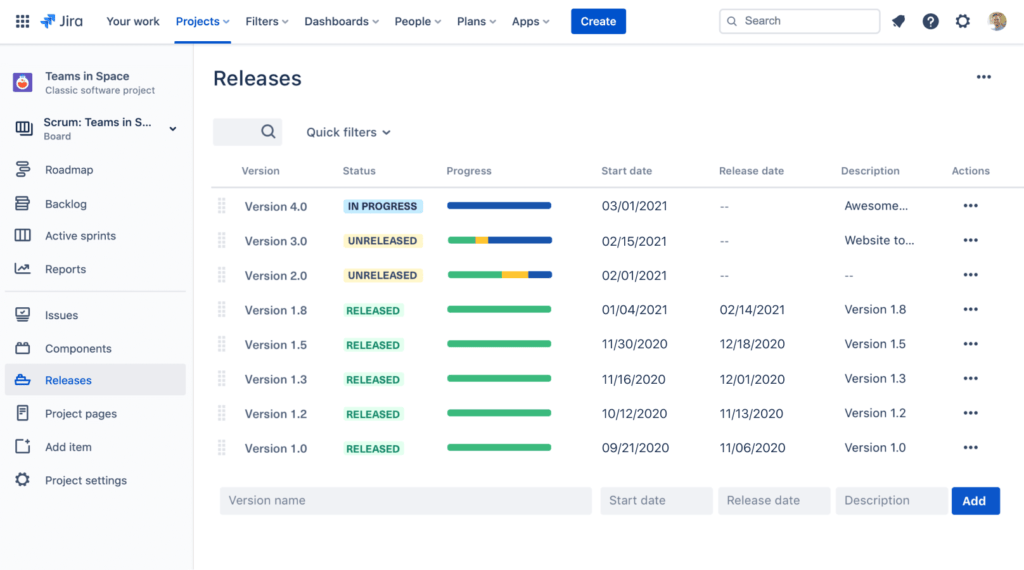 An agile-friendly solution favored by engineers and software developers, Jira offers tools for roadmapping, analytics, and workflow automation. It's designed to handle a great deal of complexity, but the flip side of this is that it can have a steep learning curve if you need to customize it or use some of its more advanced features. Free for ten users or less, Jira costs $7.50 per user, per month for the Standard plan and $14.50 for Premium.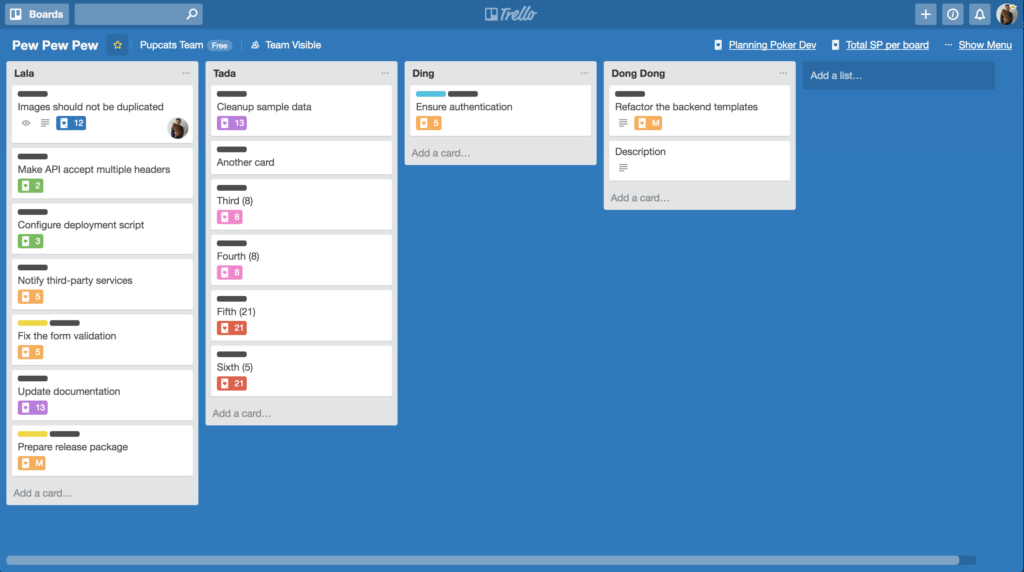 Trello defaults to a Kanban-style display and doesn't have a lot of other built-in options, which makes this a suitable choice for anyone who enjoys the intuitive visuals of a Kanban board. Larger organizations with complex requirements might be a tough fit, but Trello does offer some nifty workflow automation tools. There is a free version, and the Standard plan starts at $5 per user, per month, billed annually. The rate goes up to $10 for Premium and $17.50 for Enterprise.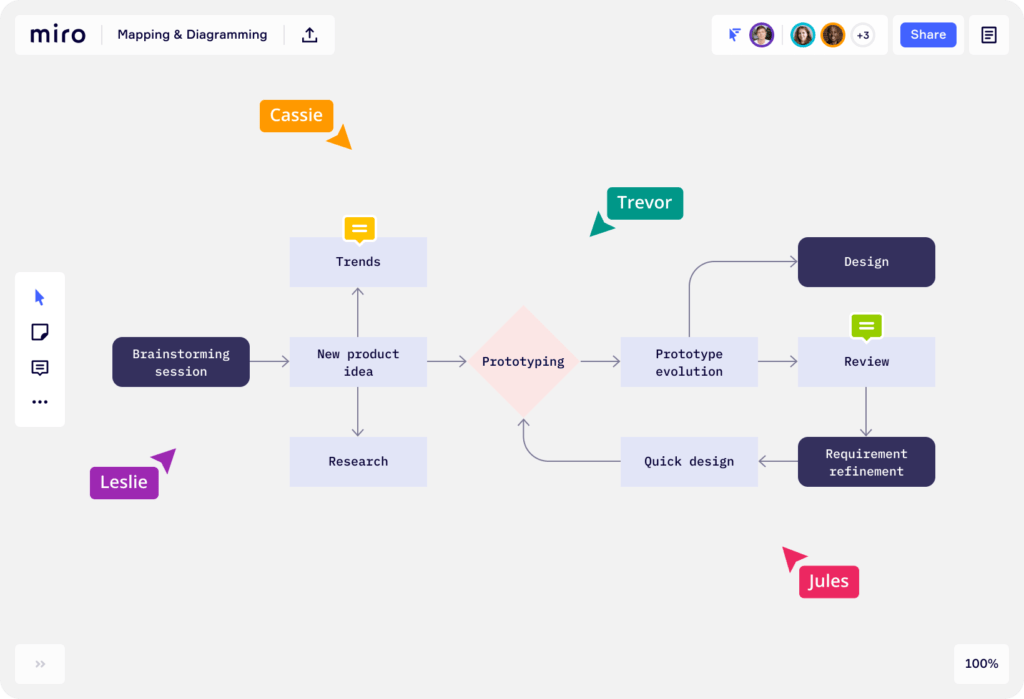 For products that lean toward the visual, artistic, and creative, as opposed to purely technical, Miro can be a powerful design and planning tool. It provides teams with a shared, infinite whiteboard for both simultaneous and asynchronous collaboration. The Team plan is $8 per month per user, if paid yearly. The Business plan is $16 and there is also a free trial version.
With loads of features and possibilities for customization, ClickUp can be a good option for large organizations with diverse teams. Getting it set up and functioning properly can be daunting, but its modular design makes it highly flexible for whatever you need to use it for. Rates are per user, per month, billed annually: Unlimited is $5, Business is $9, and Business Plus is $19. There is also a free version for personal use.
Rising to the challenges of the current moment, Basecamp's offering places a strong emphasis on improving workflows for remote teams. This platform's tools for scheduling, messaging, and task tracking aim to get teams working together in a more transparent and collaborative environment. There's a free personal version and a free 30-day trial, but the flat rate for businesses is $99 per month.
The spreadsheet-like interface of Airtable provides users with an easy gateway into a versatile platform with excellent tools for workflow optimization and tons of integration options. One of Airtable's coolest features is its huge template library for various project types. There's a free plan, a Plus plan at $10 per user, per month, and a Pro plan at $20.
Documentation & Document Management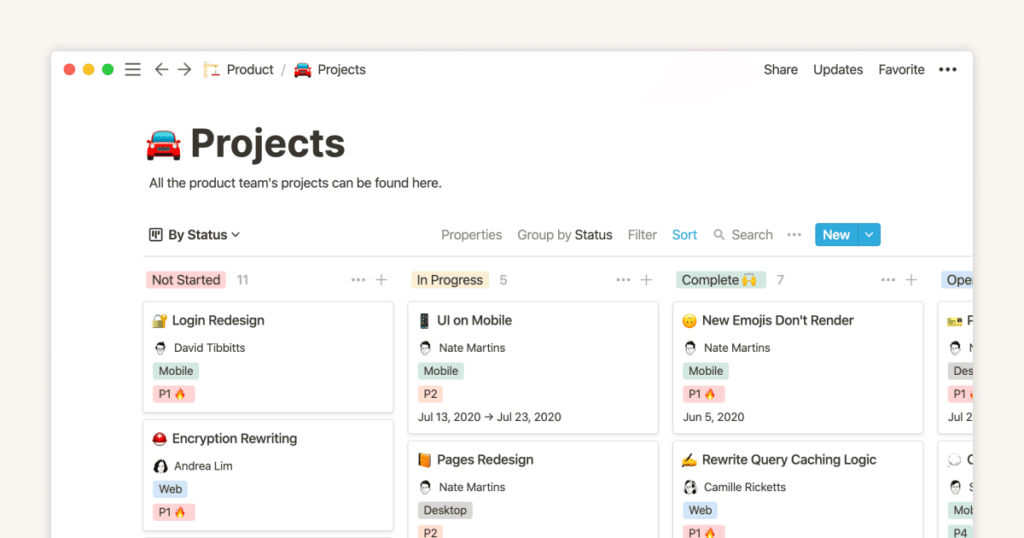 Having a robust and accessible knowledge base for your products is key, especially as they grow in scale and complexity. Notion serves as a document hub with project management features, helping you keep your teams informed and connected. There's a free plan, a Personal Pro plan at $4 per month if paid annually, and a Team plan at $8 per user, per month.
If you're tired of key information getting lost between spreadsheets, documents and workflow applications, Coda aims to help you organize it all. Coda functions as a central repository for all your documents and data, with integrations available for popular tools like Slack and Jira. In addition to a limited free plan, Coda pricing starts at $10/month per Doc Maker.
Many organizations opt for Wiki-type knowledge management. Though very helpful at first, it can be hard to scale and limited in integration with other tools used in the product management process. Tettra is an internal knowledge base that organizes your company knowledge so you can use it to answer your team's questions right in Slack or MS Teams. Pricing for Tettra starts at $8.33 for small businesses, with a free feature-limited version as well as a demo of the premium option available.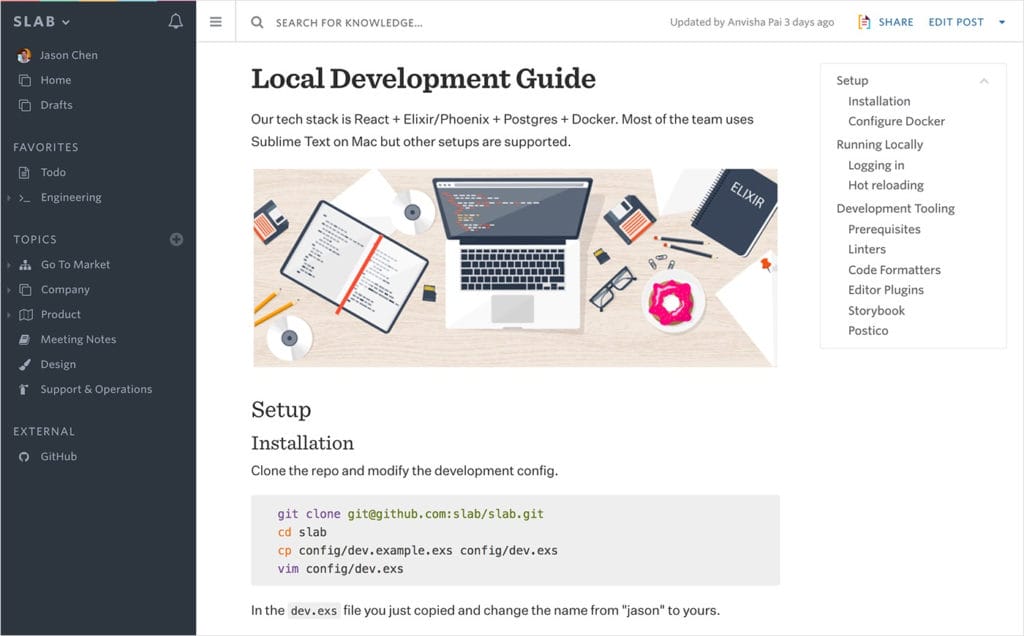 Another handy solution for organizing your business knowledge and Wiki is Slab. Focused on making corporate knowledge available and accessible to all and looking good across platforms, Slab also offers extensive integration options with services like GitHub, Asana, and Slack. The free subscription allows up to 10 users and offers limited functionality. Premium features require you to pay $6.67 user / month for the most basic offering.
User Analytics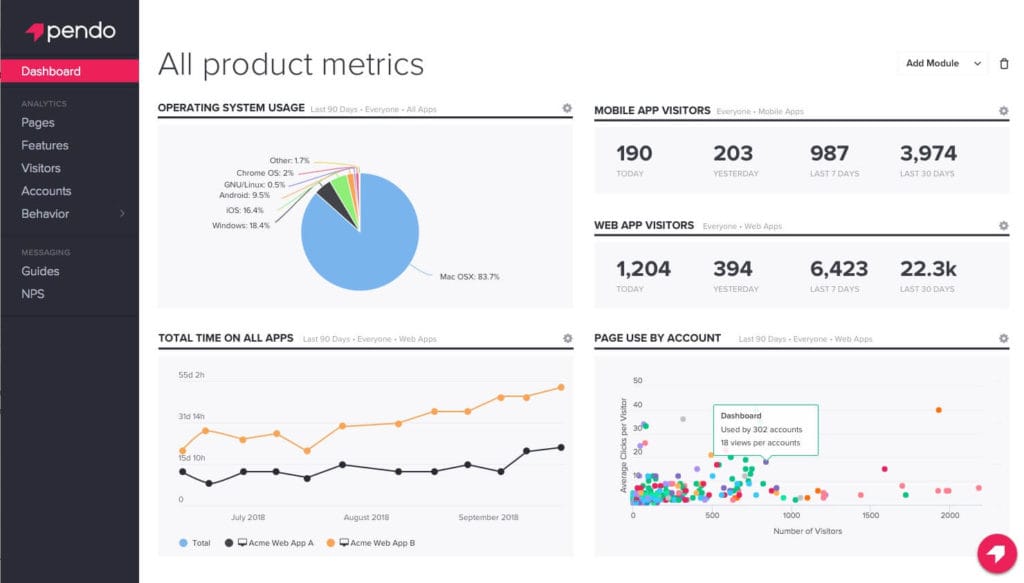 Launching and selling a product is important, but in the long run you won't get very far if users don't readily adopt your product and learn how to use it. Pendo focuses on tracking the user journey, analyzing their behavior for insights and sending targeted in-app messages to assist with onboarding. There's a free version, but you have to contact them for paid plan pricing.
User behavior in digital products is key to optimizing user experience and driving users to take desired actions. Amplitude Analytics aims to arm product managers, designers and developers with unique insights into user behaviors as well as use data and experiments to drive innovation and forecast future results through the use of AI and machine learning. The service offers a free plan with limited capabilities, but for further functionality you will have to request a quote from the sales team.
A robust and powerful user experience analytics solution, Mixpanel offers a broad set of features to help you understand how users traverse your digital products and funnels. Focused on gaining insights from large data lakes and big data resources, Mixpanel is the best choice for you if you're looking to analyze user behaviour at scale and go beyond the basics. The free option for Mixpanel is limited to US and EU residents only, and includes only basic features. For premium features, pricing starts at $25/month.
Conclusion
There's a lot to consider when selecting a product management tool. The first thing to do is identify the features that are most important to you. Next, you'll want to look at the user interface, possible integrations with other solutions you use, and the pricing. Ease of use also matters, and if a candidate has a steep learning curve, you'll want to know how much support the developer offers.
With a methodical approach, you can narrow the field down to the best of the best and select the right product management tool for your business, giving you a competitive advantage when it comes to working more efficiently and delivering amazing products.
Great products start with great product management